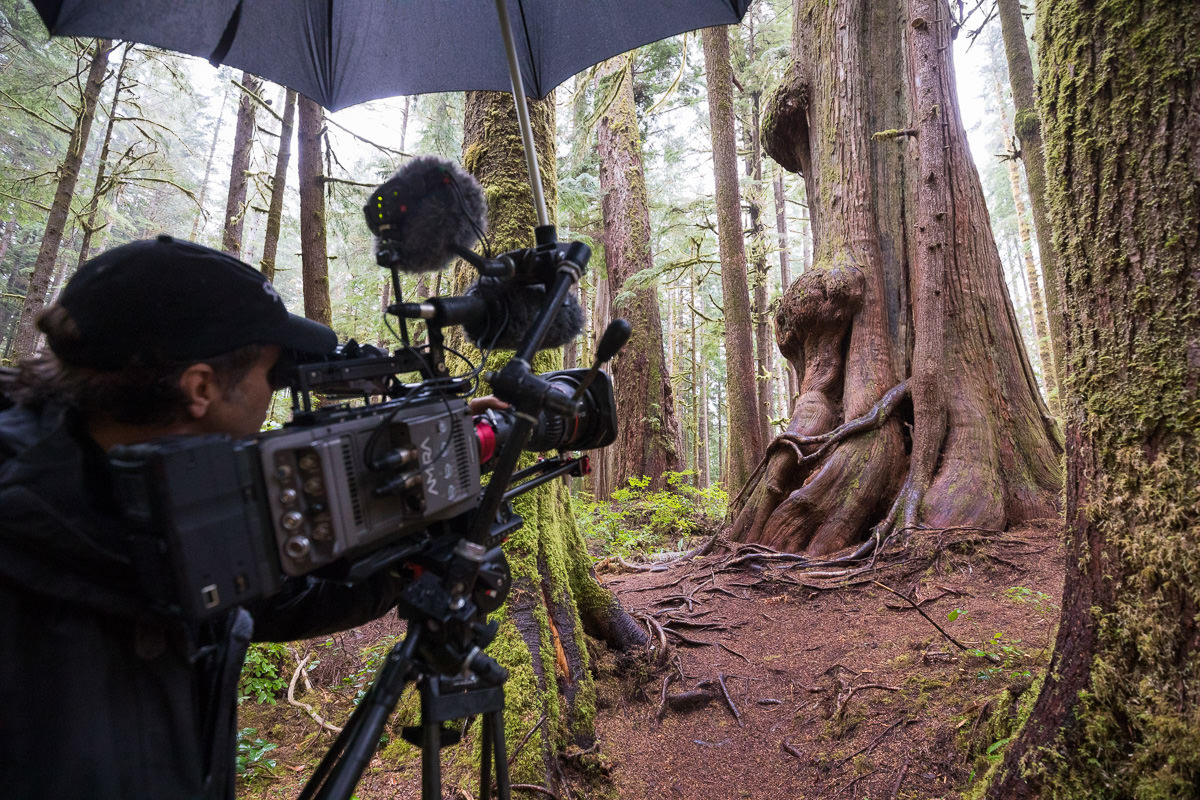 Oct 18
2018
Acclaimed Documentary, Anthropocene: The Human Epoch, Depicts Beauty and Destruction of BC's Old-Growth Forests
For immediate release
October 18, 2018

The widely acclaimed documentary film entitled Anthropocene: The Human Epoch, which premiered last month at the Toronto International Film Festival, highlights the profound impact humanity has had on planet Earth, including the destructive logging of BC's coastal temperate rainforests.
Anthropocene is the final installation in a series of three films that includes multiple-award-winning films Manufactured Landscapes (2006) and Watermark (2013) by renowned filmmakers Jennifer Baichwal and Nicholas de Pencier and photographer and artist Edward Burtynsky. The film, which had shoots in 43 locations in 20 different countries, features scenes of Avatar Grove, a now-famous old-growth forest that the Ancient Forest Alliance successfully campaigned to protect, and old-growth logging near Port Renfrew on Vancouver Island as an example of the extent to which humans have altered the natural world and its ecological processes.
"Having grown up on Vancouver Island, it was very important to me that we showcase both the beauty and the destruction of BC's coastal temperate rainforests in the film," stated Anthropocene Co-Director, Jennifer Baichwal. "Of the many dramatic examples of humanity's impact on the natural environment that we documented across the world, the logging of old-growth forests on Vancouver Island was deeply disturbing."
"These incredible ecosystems evolved over many thousands of years and yet, in a little over a century, we've managed to wipe out about 80% of the original, productive old-growth forest in southwest BC and well over 90% of the highest productivity forests with the biggest trees and most biodiversity. Witnessing this destruction first-hand was devastating and made me want to fight for a complete moratorium on old-growth logging in BC and Canada, period. There is plenty of second-growth available for industry and logging old-growth is cynical, greedy, and deeply short-sighted. When will we stop? When there are no trees left?"
The film artfully explores the theory proposed by the Anthropocene Working Group, an international body of scientists, that we have entered a new geological epoch wherein humans are the primary cause of planetary change. It is also part of a larger body of work called The Anthropocene Project, which includes exhibits at the Art Gallery of Ontario and the National Gallery of Canada, featuring photographic prints, high-definition murals, film and augmented reality (AR) installations. One of the three AR installations allows viewers to experience Big Lonely Doug, Canada's second-largest Douglas-fir tree which stands alone in a clearcut on Vancouver Island, at or near actual scale.
Anthropocene also includes footage by Ancient Forest Alliance Campaigner and Photographer TJ Watt, including the logging of some of Canada's finest old-growth forest in the Nahmint Valley, as well as a shipment of raw logs exports leaving Port Alberni for overseas markets. Watt worked with the filmmaking crew for several days over the course of two years while they were shooting for the film, guiding them to big trees and clearcuts around the Port Renfrew area."It was an amazing opportunity," said Watt. "For more than a decade I have looked up to renowned photographer Edward Burtynsky and I'm honoured to have worked alongside him and the rest of the talented team on this powerful film. It's been a great reminder that, on a global scale, the ancient forests of BC are some of the most precious and threatened places on the planet."
"Seeing the destruction of Vancouver Island's ancient forests depicted alongside the world's largest and most polluting mines, most destructive machines, iconic endangered species like Sumatran tigers, and coral bleaching events in the Great Barrier Reef really puts the situation into context," stated Ancient Forest Alliance Campaigner Andrea Inness.
"BC's old-growth temperate rainforests are globally significant. Not only are they admired and visited by millions of people from around the world, they are an important component in the fight against dangerous climate change. They store more carbon per hectare than any forest on Earth. Continuing to log these carbon sinks – particularly in light of the Intergovernmental Panel on Climate Change's recent findings – is downright foolish."
"The BC government has a window of opportunity right now to protect the last remnant tracts of productive old-growth in BC before they're lost, but first they need a major wake-up call. BC decision-makers need to listen to the messages that films like Anthropocene are sending: that our extractive, resource-based economy has done irreparable damage to the planet and that we need to apply our ingenuity towards innovative and truly sustainable solutions."
Background information on old-growth forests
Old-growth forests are vital to sustaining unique endangered species, climate stability, tourism, clean water, wild salmon, and the cultures of many First Nations. On BC's southern coast, satellite photos show that at least 75% of the original, productive old-growth forests have been logged, including well over 90% of the valley bottoms where the largest trees grow. Only about 8% of Vancouver Island's original, productive old-growth forests are protected in parks and Old-Growth Management Areas (see maps and stats at: 
https://ancientforestalliance.org/old-growth-maps.php
).
Old-growth forests – with trees that can be 2,000 years old – are a non-renewable resource under BC's system of forestry, where second-growth forests are re-logged every 50 to 100 years, never to become old-growth again.The Ancient Forest Alliance is recommending comprehensive, science-based plan to protect endangered old-growth forests, policies that ensure a sustainable, value-added, second-growth forest industry, and support for First Nations land use plans, Indigenous Protected Areas, and sustainable economic development and diversification in lieu of old-growth logging.
Despite their 2017 election platform promise to use the ecosystem-based management approach of the Great Bear Rainforest as a model for managing old-growth forests across the province, the BC NDP government has yet to take any meaningful action toward this commitment.
https://ancientforestalliance.org/wp-content/uploads/2018/10/Anthropocene-Port-Renfrew-1.jpg
800
1200
TJ Watt
https://ancientforestalliance.org/wp-content/uploads/2014/10/cropped-AFA-Logo-1000px.png
TJ Watt
2018-10-18 21:04:25
2023-04-06 19:07:30
Acclaimed Documentary, Anthropocene: The Human Epoch, Depicts Beauty and Destruction of BC's Old-Growth Forests