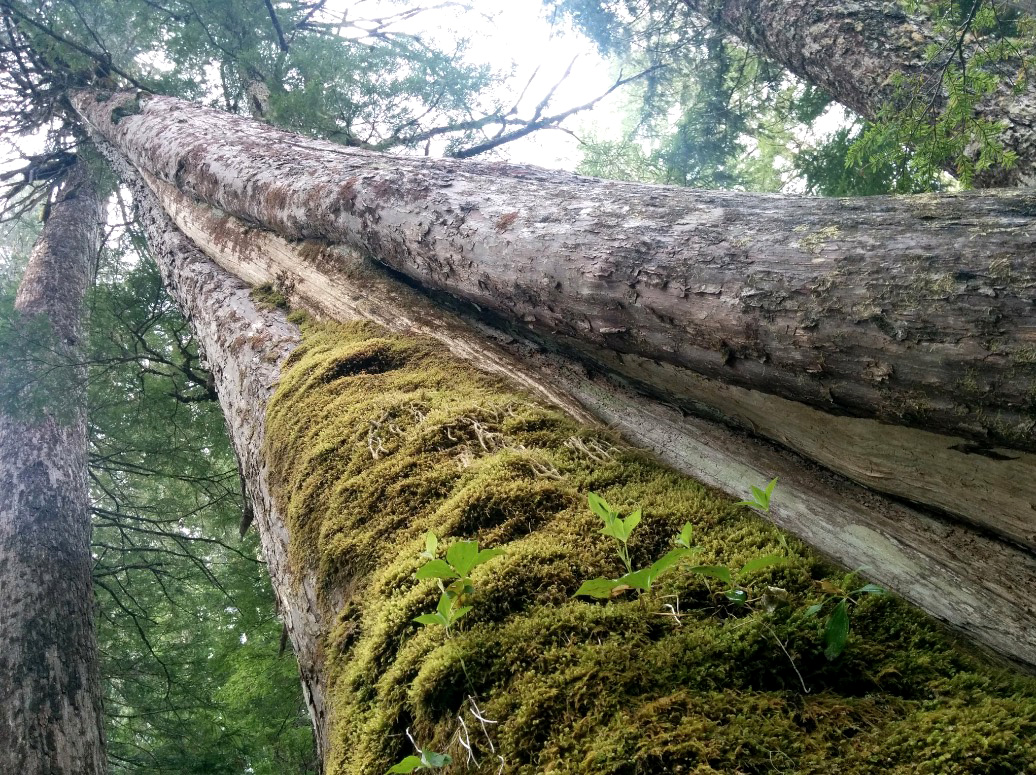 Jun 13
2018
BC Government Targets Another Old-Growth Rainforest Forest For Clearcut Logging
VICTORIA, Unceded Lekwungen Territories – After visiting and documenting Schmidt Creek, the next valley slated for logging by government agency B.C. Timber Sales (BCTS), environmental organizations and Indigenous leaders are ramping up the call for the agency to discontinue logging permits in remaining endangered old-growth rainforests. The documentation of new BCTS logging roads in Schmidt Creek follows the recent discovery by the 
Ancient Forest Alliance of BCTS logging of endangered rainforest in the Nahmint Valley
, near Port Alberni, including near record-sized ancient giants, wider than the biggest Douglas-fir in Cathedral Grove.
Schmidt Creek, located in Tlowitsis-Ma'amtagila territories on northeast Vancouver Island between Sayward and Telegraph Cove and adjacent to Johnstone Strait, contains several cutblocks slated for imminent logging. Last week, representatives from Sierra Club BC and the Wilderness Committee visited several of these cutblocks and new logging roads, which are located on steep slopes in the valley with a high risk of landslides and potential impact on globally 
unique orca rubbing beaches
 near the mouth of Schmidt Creek.
"For too long resource extraction companies have got away with taking from our shared territorial lands and waters," said Rande Cook, Head Chief Makwala, Hamatam (Seagull) House, Ma'amtagila. "Non-Indigenous governments need to understand that this type of reckless logging is not sustainable or respectful to the land itself.  Furthermore, this is not being done in the spirit of meaningful consultation with the proper Kwakwaka'wakw nations."
"If this logging goes ahead it will destroy some of the last old-growth rainforest on Vancouver Island, which is outrageous and exactly what we need to be moving away from," said Torrance Coste, Vancouver Island campaigner for the Wilderness Committee. "The fact that this has been signed off on by the provincial government is something everyone in the province should be ashamed of."
BCTS is a stand-alone agency of the provincial forests ministry that manages around 20 per cent of the annual cut on provincial land. The agency is one of the operators that supported and implemented ecosystem-based management in the Great Bear Rainforest but continues to log the most endangered ancient rainforests in B.C., such as old-growth Douglas-fir ecosystems on Vancouver Island.
Last year, Sierra Club BC, the Wilderness Committee and the Ancient Forest Alliance called on forests minister Doug Donaldson to protect endangered old-growth rainforest including interim protection for remaining intact areas. One of the groups' most straightforward recommendations is to direct BCTS to start by discontinuing the issuance of cutblock permits in old-growth rainforests. The minister rejected this request, and his ministry has yet to commit to any significant changes to forest management to ensure the survival of old-growth ecosystems.
"Anyone in their right mind knows it's wrong to blast a road through an old-growth forest, yet that's exactly what the BC government is doing, right near a park boundary," said Mark Worthing, Conservation and Climate Campaigner with Sierra Club BC. "There has already been huge damage done in the valley by LeMare Lake Logging, and when a major rain event occurs it could send sediment onto critical orca rubbing beaches."
In its 2017 election platform, the BC NDP promised to "apply an evidence-based scientific approach to land-use planning, using the ecosystem-based management of the Great Bear Rainforest as a model for managing old-growth forests." The B.C. government has not yet made any progress toward implementing this election commitment.
"We are running out of time to protect B.C.'s most productive ancient forests, where some of the biggest, oldest trees on Earth are found," stated Andrea Inness, campaigner with the Ancient Forest Alliance. "After a century of logging, less than 10 per cent of these forests now remain and yet B.C. Timber Sales is still issuing logging permits in rare and endangered ancient forest ecosystems. When is the government going to realize this is not okay and start living up to its promise to manage old-growth sustainably, based on the scientific evidence?"
Schmidt Creek is in Tlowitsis-Ma'amtagila territories and is adjacent to the world-renowned Robson Bight Ecological Reserve, famous for its orca rubbing beaches.
https://ancientforestalliance.org/wp-content/uploads/2018/08/Schmidt-Creek-Cedar.jpg
775
1036
TJ Watt
https://ancientforestalliance.org/wp-content/uploads/2014/10/cropped-AFA-Logo-1000px.png
TJ Watt
2018-06-13 00:00:00
2023-04-06 19:07:31
BC Government Targets Another Old-Growth Rainforest Forest For Clearcut Logging