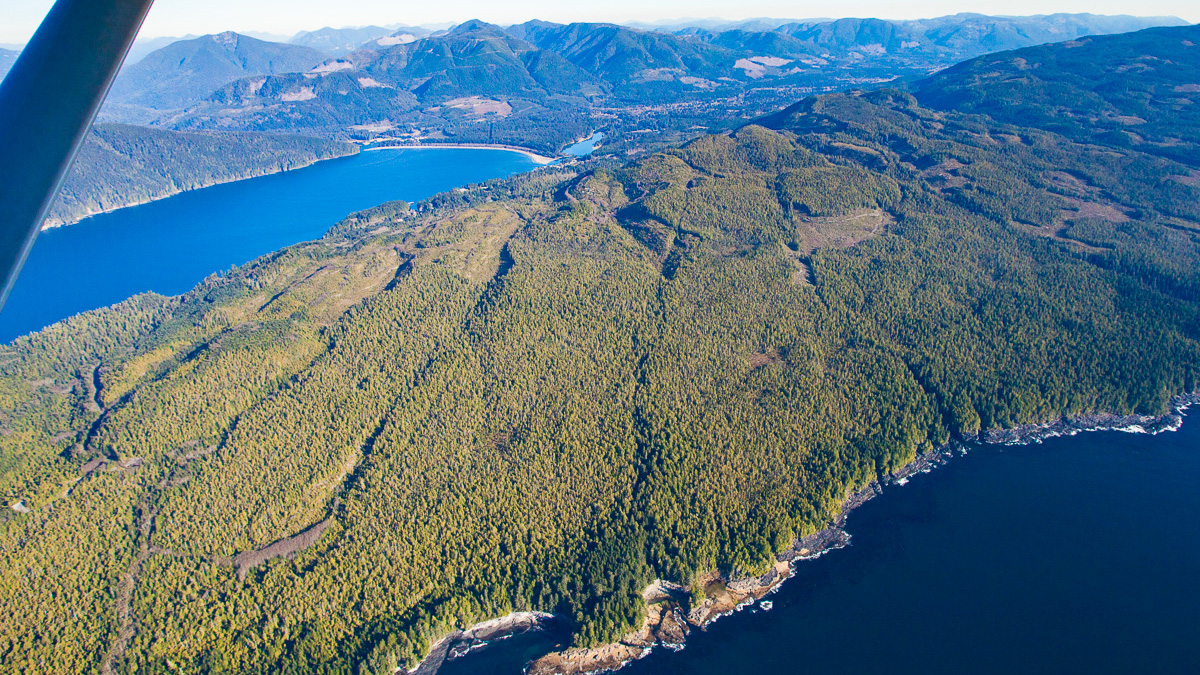 Apr 18
2019
Conservationists condemn BC NDP Government's plans to log old-growth forest adjacent to Juan de Fuca Provincial Park

Port Renfrew, Vancouver Island – Conservationists with the Ancient Forest Alliance (AFA) are outraged that the BC government's logging agency, BC Timber Sales, is currently auctioning off 109 hectares of old-growth forest adjacent to Juan de Fuca Provincial Park on Vancouver Island. The area, located northeast of Botanical Beach and south of Port Renfrew in Pacheedaht First Nation territory, borders one of the most spectacular sections of the Juan de Fuca Marine Trail with impressive old-growth forests and stunning waterfalls.
The seven planned cutblocks, of which two come to within 50 metres of the Juan de Fuca Provincial Park boundary, would see an estimated 55,346 cubic metres of old-growth – the equivalent of over 1,300 logging trucks – leave the region known as the "Tall Tree Capital of Canada."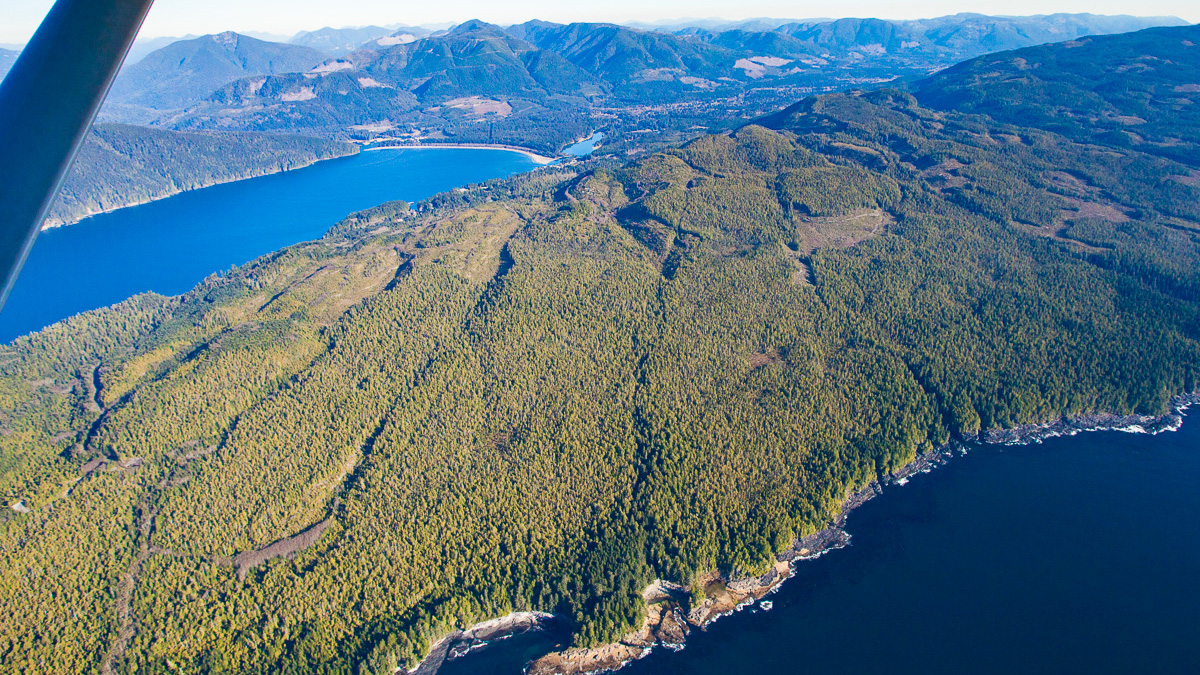 "It's outrageous that BC Timber Sales has approved the clearcutting of an area more than two Avatar Groves in size so close to one of Vancouver Island's most popular provincial parks," stated Ancient Forest Alliance campaigner Andrea Inness. "People come from all over the world to hike the Juan de Fuca Marine Trail. The clearcutting will further degrade and fragment the forest that buffers the park which helps protect the park's outstanding ecological and recreational values. This is a clear-cut example that BC Timber Sales cannot be trusted to maintain, or even consider, the ecological importance of BC's ancient forests in its planning."
BC Timber Sales (BCTS) is the notorious BC government logging agency which manages 20% of the province's allowable annual cut and which has come under fire across the province for auctioning off old-growth forests to be clearcut in such places as the Nahmint Valley and Schmidt Creek on Vancouver Island and in Manning Provincial Park's "donut hole." Earlier this month, Sierra Club BC and Sunshine Coast-based environmental organization Elphinstone Logging Focus revealed that BCTS plans to auction off more than 1,300 hectares of cutblocks in old-growth forests across Vancouver Island in 2019. (See their joint press release)
"BC Timber Sales is going after some of the most significant tracts of the province's remaining ancient forests despite the fact that, today, they are worth more standing than they are on logging trucks," stated Ancient Forest Alliance campaigner and photographer TJ Watt. "Port Renfrew, a former logging town, has successfully re-branded itself in recent years as the "Tall Tree Capital of Canada" and is seeing a huge increase in eco-tourism, greatly benefiting local businesses. We're concerned about the impact the logging would have on Port Renfrew's reputation as an eco-tourism destination in addition to the impact on the environment."
There are also concerns that logging and the construction of over 10 kilometres of new road could impact nearby businesses, such as Soule Creek Lodge, located just 500 metres from one of the cutblocks.
"My business relies heavily on tourists coming to Port Renfrew to admire big trees and old-growth forests and to visit Botanical Beach and other parts of Juan de Fuca Provincial Park," stated Soule Creek Lodge owner John Cash. "I'm deeply concerned that all the noise from months of logging operations is going to drive customers away. People come here for peace and quiet and to connect with nature, not to listen to blasting, chainsaws, and trees crashing in the distance."
"Instead of facilitating old-growth clearcutting right up to a provincial park boundary, the BC government should be helping rural communities like Port Renfrew transition to more diverse and sustainable economies. In this case, the government needs to use its control over BCTS to cancel the old-growth timber sales before the closing date of April 26th and expand the protected area system to buffer the Juan de Fuca Provincial Park," stated Watt.
"We need to see leadership and vision from Forests Minister Doug Donaldson, not more status quo old-growth clearcutting. He and the BC government must stop using misleading statistics that hide the fact that old-growth forests are endangered on Vancouver Island and start implementing a science-based plan to protect them where they're endangered across the province," stated Watt.
Watt recently explored the old-growth forest within one of the proposed cutblocks and found old-growth redcedar trees measuring six to seven feet in diameter with one cedar measuring ten feet, nine inches in diameter, making it eligible for protection under BC Timber Sales' Coastal Legacy Tree Policy which aims to retain 'legacy trees' that exceed certain size thresholds. However, a BCTS representative stated in an email that the agency had conducted a review of the proposed cutblocks and that "no legacy trees were identified."
"BCTS' Legacy Tree Policy failed to prevent the ninth widest Douglas-fir tree in Canada from being felled in the Nahmint Valley last year," stated Inness. "Not only does the policy leave big trees standing alone in clearcuts with no buffer zones, BCTS clearly can't be trusted to fully implement it. The BC government needs to quickly implement its long-overdue Big Tree Protection Order originally meant to protect BC's biggest trees with buffer zones and which the Ministry of Forests, Lands, Natural Resource Operations and Rural Development has been working to develop since 2012."

Background information:
Old growth forests are integral to British Columbia for ensuring the protection of endangered species, climate stability, tourism, clean water, wild salmon, and the cultures of many First Nations. At present, over 79% of the original productive old-growth forests on BC's southern coast have been logged, including well over 90% of the valley bottoms where the largest trees grow. Only about 8% of Vancouver Island's original productive old growth forests are protected in parks and Old Growth Management Areas.
Due to the popularity of nearby old-growth forests for large numbers of visitors from across the world, the former logging town of Port Renfrew has rebranded itself in recent years as the "Tall Trees Capital of Canada." Port Renfrew boasts access not only to the popular West Coast and Juan de Fuca trails, but also some of BC's most popular ancient forest destinations including Avatar Grove, the Central Walbran Valley, Big Lonely Doug (Canada's 2nd largest Douglas-fir), the Red Creek Fir (the world's largest Douglas-fir), the San Juan Spruce (previously Canada's largest Sitka spruce until the top broke off in 2017), Eden Grove, and Jurassic Grove. These ancient forests and trees attract hundreds of thousands of tourists from around the world, strengthening the economy of southern Vancouver Island.
In 2016, The Port Renfrew Chamber of Commerce signed a resolution calling on the BC government to increase protection for old-growth forests to benefit the economy. The Sooke and WestShore Chambers of Commerce have also spoken up for the protection of the old-growth forests in the Walbran Valley, while the BC Chamber of Commerce has passed a resolution calling for the increased protection of old-growth forests in BC to support the economy. The Union of BC Municipalities (UBCM), the Association of Vancouver Island and Coastal Communities (AVICC), the Wilderness Tourism Association of BC (WTABC) and the councils of Victoria, Metchosin, and Tofino have all passed resolutions for the protection of remaining old-growth forests on Vancouver Island or across BC.
The Ancient Forest Alliance is calling on the BC government to implement a series of policy changes to protect endangered old-growth forests, including an interim halt to logging in old-growth "hotspots" – areas of high conservation value, such as the Nahmint Valley – to ensure the largest and best stands of remaining old-growth forests are kept intact; a comprehensive, science-based plan to protect endangered old-growth forests across the province; conservation financing support for First Nations communities in lieu of old-growth logging; and a provincial land acquisition fund to purchase and protect endangered ecosystems on private lands.
https://ancientforestalliance.org/wp-content/uploads/2019/04/BCTS-JDF-Aerial-16x19.jpg
675
1200
fairwindcreative
https://ancientforestalliance.org/wp-content/uploads/2014/10/cropped-AFA-Logo-1000px.png
fairwindcreative
2019-04-18 16:53:10
2019-04-20 17:03:39
Conservationists condemn BC NDP Government's plans to log old-growth forest adjacent to Juan de Fuca Provincial Park