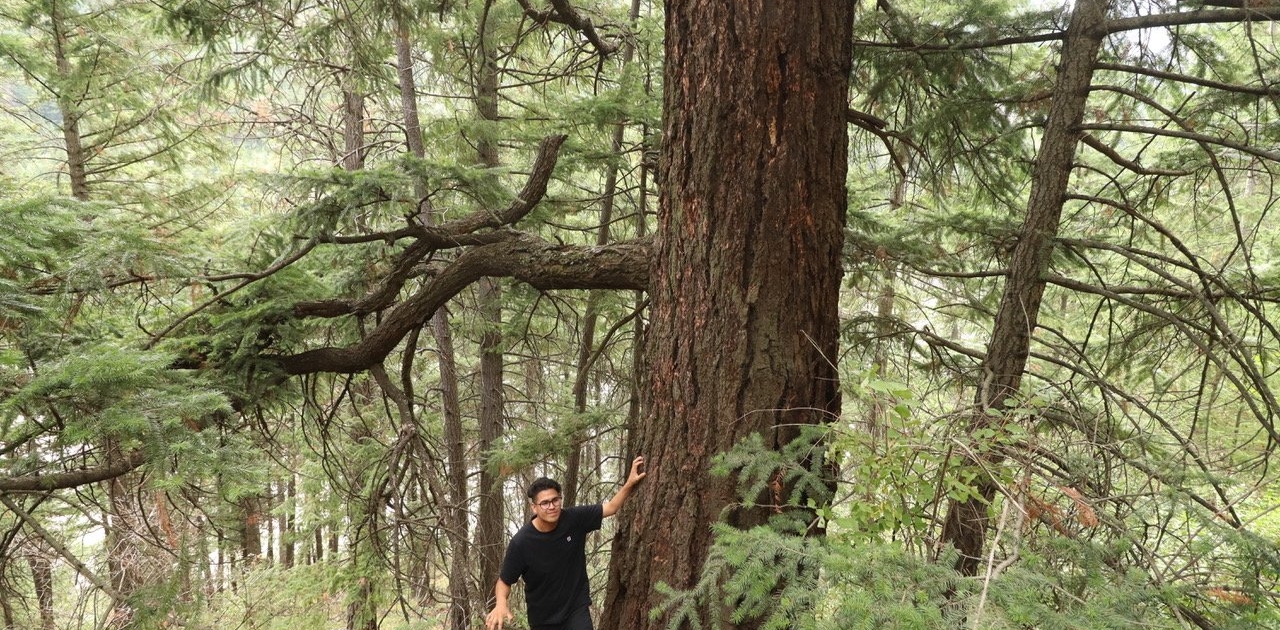 Nov 9
2022
Great News! Diverse Old-Growth Forests Purchased by Conservation Groups for First Nations
We're excited to share that the Nature-Based Solutions Foundation (NBSF), in collaboration with the Kanaka Bar Indian Band, the Ancient Forest Alliance (AFA), and the Endangered Ecosystems Alliance (EEA), recently purchased one of the most diverse old-growth forests in BC and will be giving it back to the Kanaka Bar with a conservation covenant.
The 8-acre property, also referred to as "Old Man Jack's", is a remarkable ecosystem located just south of Lytton, BC, that features rainforest trees such as redcedars and bigleaf maples growing side-by-side with dry-adapted ponderosa pines. It's also home to some of the largest interior Douglas-fir trees known in Canada along with living archaeological treasures – ancient redcedars showing evidence of centuries of use by First Nations peoples.
See media coverage from The Globe and Mail & The National Observer.
In addition to purchasing and conserving this land to support Kanaka Bar's protected areas plan, the AFA, EEA, and the NBSF are also supporting the Kanaka Bar's Indigenous Protected and Conserved Area (IPCA) proposal, which would protect about 350 square kilometres of land in their territory, including 125 square kilometres of old-growth forests.
Both projects are part of the AFA, EEA, and NBSF's collaborative work, known as the Old-Growth Solutions Initiative, to protect endangered old-growth forests across BC by working directly with Indigenous and rural communities.
The NBSF works alongside AFA and EEA to help fill key funding gaps in protecting old-growth forests, providing support to communities with funding linked to the protection of public lands, and helping in the purchase and protection of private lands.
The AFA and the EEA are also working hard to push the BC government to bring much greater funds to the table for First Nations' sustainable economic development linked to new protected areas and for private land acquisition.
The federal government has offered a $55.1 million Old-Growth Nature Fund to specifically help protect old-growth forests in BC, and they are also making available hundreds of millions more in funding to expand protected areas in BC (including to protect substantially more old-growth forests).
The key barrier to this huge movement for conservation right now is the BC government itself, which must agree to let these funds in and provide its own matching funding. It is incumbent upon the BC government to get serious about directing funding to protect the most endangered ecosystems in BC, including the most at-risk, high-productivity stands of old-growth forests.
Please take a moment to send an instant message to the BC government calling for substantial funding to support Indigenous-led old-growth protection initiatives and sustainable economic alternatives to old-growth logging today.
In the meantime, we're celebrating this incredible milestone that bridges Indigenous land stewardship and old-growth forest protection in BC. We could not undertake these important projects without your support – thank you! Please help us expand our vital work by making a donation today.
https://ancientforestalliance.org/wp-content/uploads/2022/11/Garth-Douglas-Fir.jpeg
853
1280
TJ Watt
https://ancientforestalliance.org/wp-content/uploads/2014/10/cropped-AFA-Logo-1000px.png
TJ Watt
2022-11-09 10:54:33
2022-11-09 10:54:33
Great News! Diverse Old-Growth Forests Purchased by Conservation Groups for First Nations