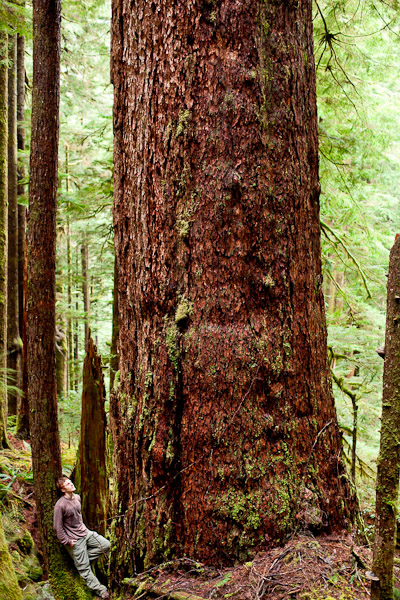 Apr 20
2012
Media Release: Christy Clark Grove
For Immediate Release
April 20, 2012
Ancient Forest Alliance identifies Canada's 8th widest known Douglas fir, the "Clark Giant", found in the unprotected Christy Clark Grove.
Victoria, British Columbia – In honour of Earth Day this Sunday, the Ancient Forest Alliance is naming a recently found grove of unprotected, near record-size old-growth trees on Vancouver Island the "Christy Clark Grove" after BC's premier. The group hopes the new name will motivate Premier Clark to protect the grove and develop a plan to protect endangered old-growth forests across BC instead of supporting their continued destruction. Federal College Grants
See spectacular images at:https://www.ancientforestalliance.org/photos.php?gID=16
"We're hoping that Christy Clark won't let the Christy Clark Grove get cut down, and will show some leadership by creating a plan to protect BC's endangered old-growth forests," stated TJ Watt, Ancient Forest Alliance photographer and campaigner, and discoverer of the Christy Clark Grove. "Already 75% of Vancouver Island's productive old-growth forests have been logged, including 90% of the biggest trees in the valley bottoms. Why go to the end of an ecosystem when there is an extensive second-growth alternative now to sustain the forest industry?"
The newly found grove is on unprotected public (Crown) lands not far from the town of Port Renfrew in the Gordon River Valley on southern Vancouver Island, just a half an hour drive from the famous Avatar Grove that was recently protected due to public pressure.
The Christy Clark Grove includes a near record-size Douglas-fir tree 10 feet wide in trunk diameter (31 feet circumference), making it Canada's 8th widest known Douglas fir tree in relation to the trees listed in the BC Big Tree Registry (see https://bigtrees.forestry.ubc.ca/files/2011/11/Big_Trees_Register.pdf). The enormous tree has been dubbed the "Clark Giant". The Grove also includes a huge burly redcedar over 13 feet wide, nicknamed the "Gnarly Clark", as well as many other ancient trees.