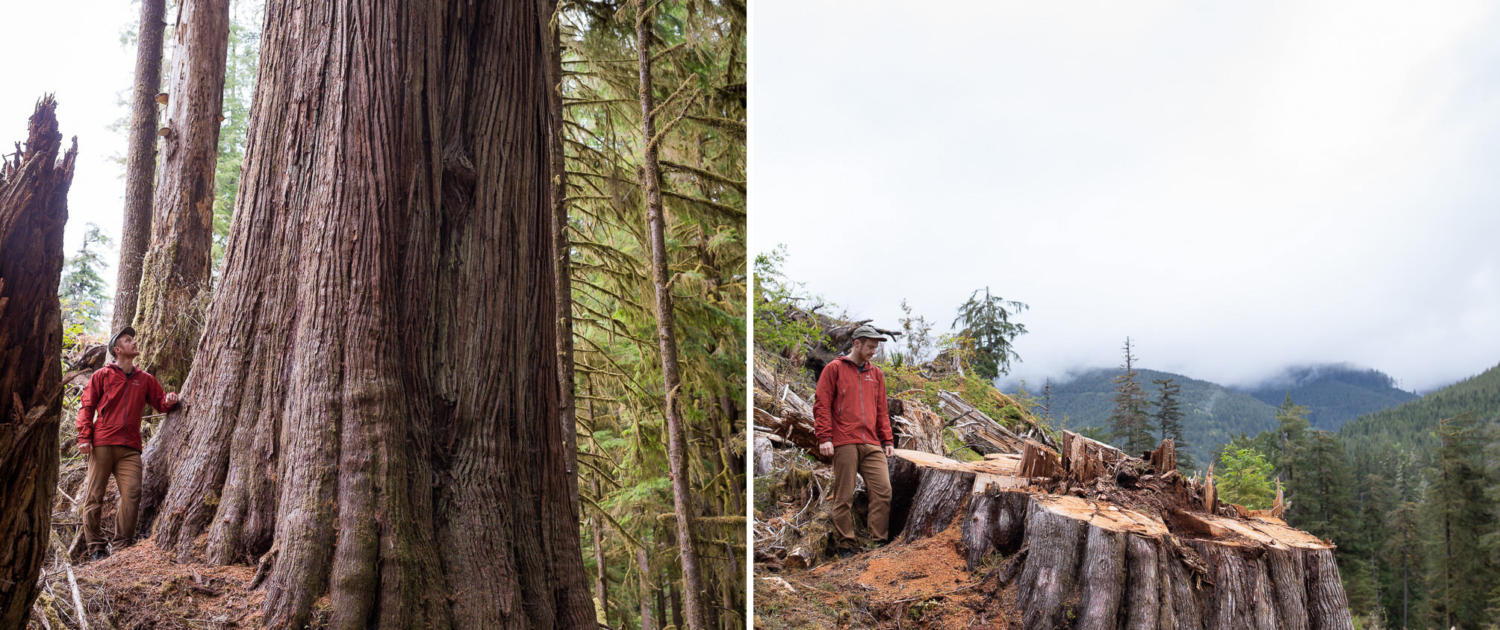 Oct 18
2022
New before & after images reveal shocking impacts of old-growth logging on Vancouver Island
For immediate release, Tuesday, Oct. 18, 2022:
New before & after images reveal shocking impacts of old-growth logging on Vancouver Island
Images highlight the critical need for conservation financing to help secure old-growth logging deferrals and eventual permanent protection.
VICTORIA (Unceded Lekwungen Territories) – The Ancient Forest Alliance has just released a new series of shocking before and after images and videos that expose the ongoing impacts of old-growth logging in British Columbia, highlighting the critical need for conservation financing from the province to help secure old-growth deferrals and permanent protection. Captured between 2020-2022 by Ancient Forest Alliance Photographer & Campaigner, TJ Watt, the images feature centuries-old redcedar trees standing and then cut down in the upper and lower Caycuse Valley in Ditidaht territory on southern Vancouver Island.
The series is part of work Watt has created with support from the Trebek Initiative, a grantmaking partnership between the National Geographic Society and the Royal Canadian Geographical Society that supports emerging Canadian explorers, scientists, photographers, geographers, and educators with a goal of using storytelling to ignite "a passion to preserve" in all Canadians. Watt was among the first round of grant recipients in 2021 and was named a National Geographic Explorer and Royal Canadian Geographical Society Explorer.
The new before and after images can also be viewed on an interactive page on the Ancient Forest Alliance website that allows viewers to reveal either the tree or the stump.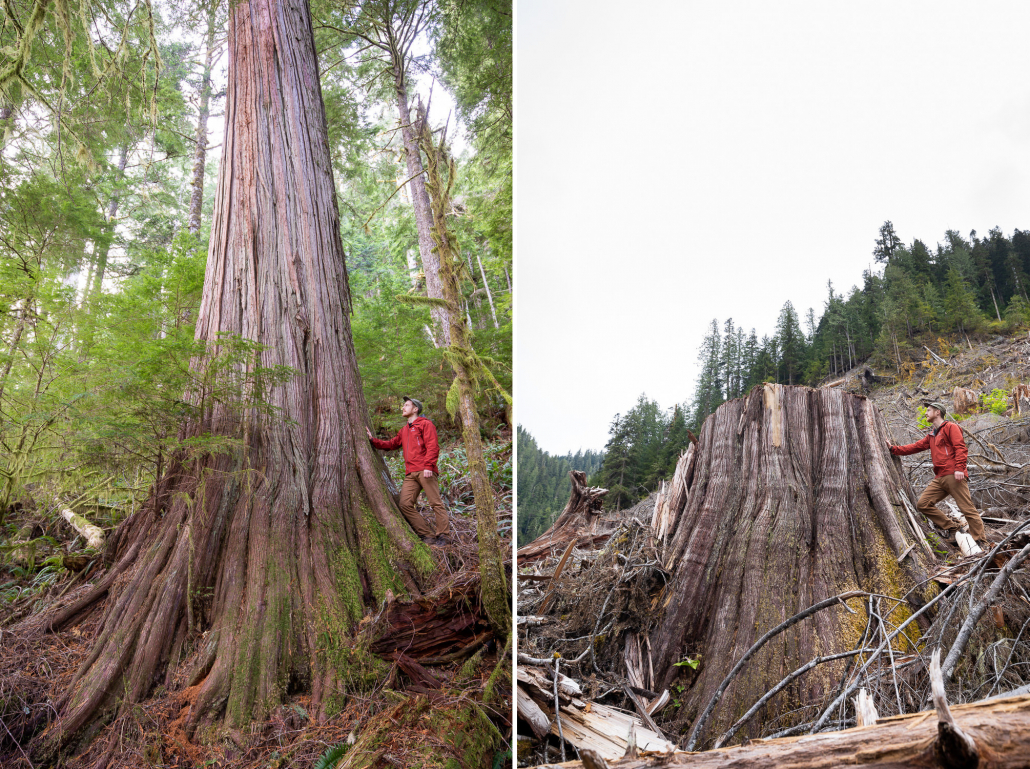 "Capturing these before and after images is a difficult process – both technically and emotionally – but I'm committed to exposing the ongoing threats ancient forests face until legislated protection can be achieved for them," stated Watt. "Only when seeing a side-by-side comparison can one truly grasp the scale of loss and devastation from old-growth logging. Once cut down, not even our great, great-grandchildren will have the chance to see a forest like that there again."
In 2021, the provincial government accepted, in principle, a recommendation from their appointed independent science panel, the Technical Advisory Panel, to defer logging on 2.6 million hectares of the most at-risk old-growth forests in BC, pending approval from local First Nations. However, more than a year on, less than half of these areas have been secured for deferral and some recommended areas, such as these, continue to be logged, as the province has failed to provide the requisite financing for First Nations needed to enable the full suite of deferrals.
Many of the groves and trees pictured in this latest series were identified as priority 'big-tree' old-growth forests that met the criteria for temporary deferral by the Technical Advisory Panel. In some locations, the forests were logged just months before the recommendations came into effect, while in others, deferrals were not secured in time before logging took place.
"In 2019-2020, I captured my original series of before and after images in the Caycuse watershed which went viral around the world and still draws attention to the issue of old-growth logging today. People were shocked to see that trees of this age and size were still being clearcut while the BC government made bold promises to protect old-growth forests. Now in 2022, much of the forests surrounding that original location have met with the same fate", stated Watt.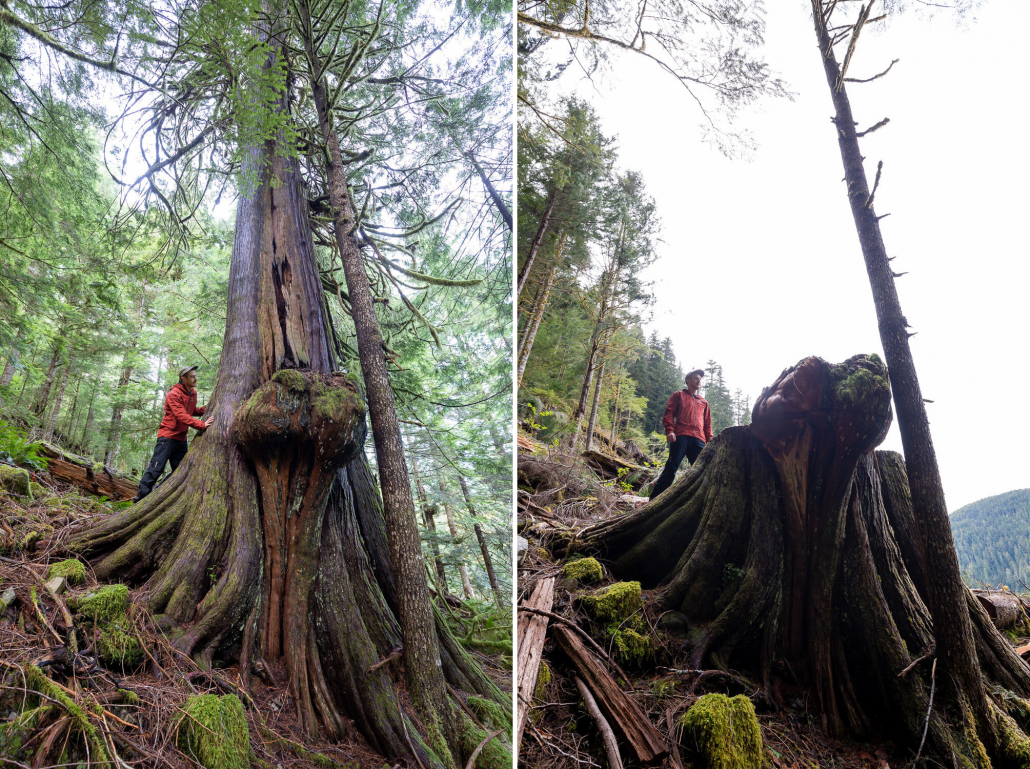 Watt also notes, "The fundamental issue holding up the full implementation of old-growth logging deferrals – and the ultimate protection of old-growth forests across the province – is the BC government's failure to provide significant conservation financing for First Nations communities, which would allow them to reasonably forgo their old-growth logging revenues and facilitate a transition into a more diversified economy associated with the establishment of new, Indigenous-led protected areas. Without this funding, enacting the full suite of old-growth logging deferrals and permanent old-growth protection will be virtually impossible to achieve."
The federal government has committed $2.3 billion to expand protected areas across Canada, and $1.4 billion for nature-oriented solutions to climate change. Of this, several hundred million dollars are available for the expansion of protected areas in BC, including in old-growth forests. $55 million has also been specifically allocated to protect old-growth forests in BC, with the promise of more should the BC government get on board.
Under pressure, the BC government put forward $185 million in Budget 2022 to support forestry workers and communities affected by old-growth deferrals (with a smaller subset going towards First Nations forestry workers) and $12.69 million to assist First Nations in reviewing deferral options and next steps. However, these funds still fall far short of the total amount needed and are not intended to support First Nations-owned sustainable businesses (in such industries as tourism, clean energy, sustainable seafood, and non-timber forest products) in lieu of old-growth logging – the most critical missing funding piece.
"The Ancient Forest Alliance has been calling on the BC government to establish a dedicated fund of at least $300 million to support Indigenous-led old-growth logging deferrals, land-use plans, and protected areas alone. This would include funding for Indigenous Guardians programs, offsetting the lost revenues for logging deferrals, and supporting the sustainable economic diversification of First Nations communities in lieu of old-growth logging linked to the establishment of Indigenous Protected Areas." stated Watt.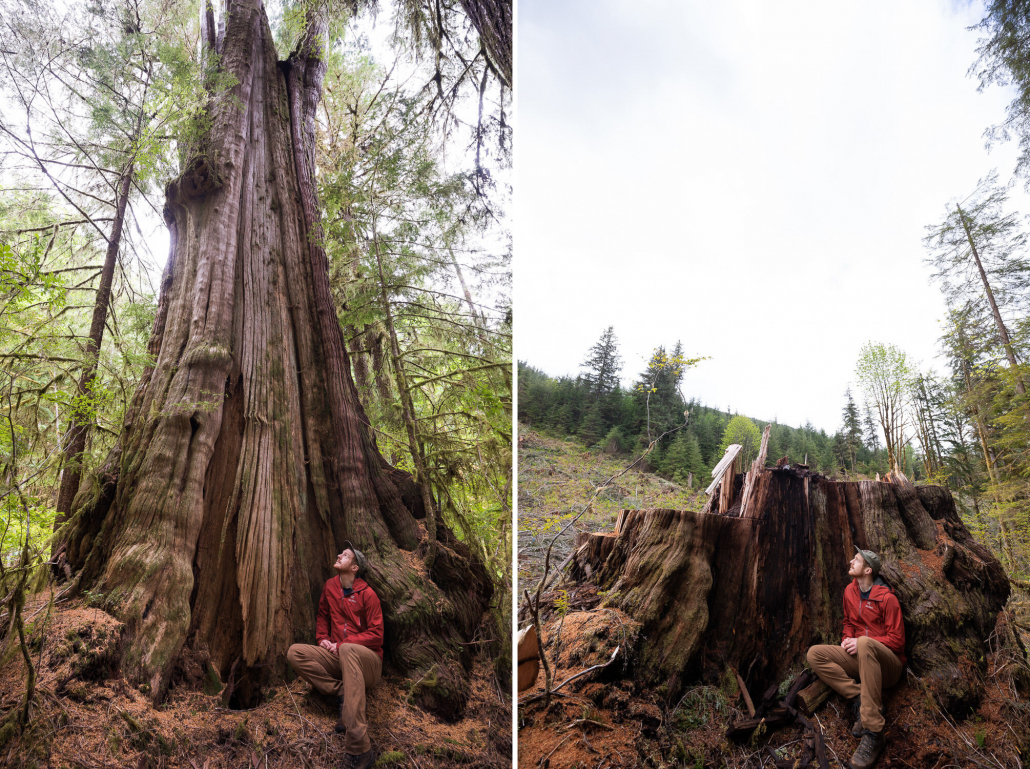 In the meantime, Watt has full intentions to continue exploring and documenting endangered old-growth forests, which are vital to sustaining unique endangered species, climate stability, eco-tourism, clean water, wild salmon, and the cultures of many First Nations.
"It's my mission to hold the government to account on their promises to protect old-growth forests and inspire a much more diverse movement of people to speak up for their protection. These ancient ecosystems with their 500-1000 year old trees are irreplaceable. I will continue to expose their destruction until it stops."
https://ancientforestalliance.org/wp-content/uploads/2022/10/Before-After-Logging-Lower-Caycuse-2-1.jpg
1500
2009
TJ Watt
https://ancientforestalliance.org/wp-content/uploads/2014/10/cropped-AFA-Logo-1000px.png
TJ Watt
2022-10-18 08:51:27
2022-11-03 12:36:27
New before & after images reveal shocking impacts of old-growth logging on Vancouver Island