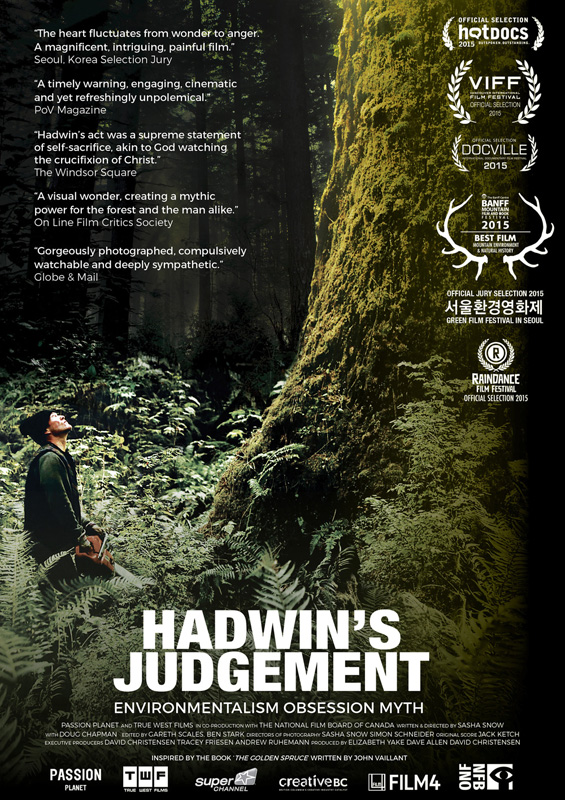 Sep 22
2016
VICTORIA: Hadwin's Judgement – Film Screening Fundraiser for the Ancient Forest Alliance! Sept. 29
WHEN: Thursday September 29th, showings at 7pm and 9:15pm
TICKETS: $15 (or $9 for students) ***ADVANCE TICKET SALES NOW CLOSED***  Limited supply still left for 7pm showing at the door. Greater number of tickets left for 9:15pm showing (box office opens 40 min before each showtime)
Q&A to follow with:
John Vaillant, award-winning author of The Golden Spruce
Elizabeth Yake, producer of Hadwin's Judgement
Ken Wu and TJ Watt, founders of the Ancient Forest Alliance
ABOUT THE FILM – HADWIN'S JUDGEMENT
2015 Canada/UK 87 minutes
Directed by Sasha Snow
Produced by Elizabeth Yake, Dave Allen, David Christensen & Yves J. Ma
Featuring Doug Chapman, Herb Hammond, John Vaillant
Winner of VIMFF Best Canadian Film * Nominated for Canadian Screen Award for Best Feature Length Documentary & Best Cinematography
Hadwin's Judgement is a spellbinding and visually stunning account of environmentalism, obsession, and myth set in the Pacific Northwest.  It chronicles one man's resolute struggle to reconcile what he regarded as an intolerable and conspiratorial affront – not just to the land, but to humanity as well.  Based on John Vaillant's award-winning book The Golden Spruce, the film covers the events that led up to the infamous destruction of an extraordinary 300-year-old tree held sacred by the indigenous Haida nation of Haida Gwaii, British Columbia.
Grant Hadwin, a logging engineer and formidable survivalist, lived and worked happily for many years in BC's remote and ancient forests.  But witnessing the devastation wrought by clear-cutting finally drove him to commit what some would say was an extraordinary and perverse act, one that ran contrary to all he had come to value.
A compelling hybrid of drama and documentary, Hadwin's Judgement interweaves speculation, myth and reality to explore the possible motives for Hadwin's unprecedented crime and the consequences of his actions.  He film charts his emotional crusade against the destruction of the world's last great temperate rainforest, a crusade that ends tragically with a mystery – and a prophetic warning – that seal Hadwin's fate as both madman an visionary.
Proceeds of this film screening go to the Ancient Forest Alliance in their work to protect British Columbia's endangered old-growth forests and to ensure a sustainable, second-growth forest industry.
www.AncientForestAlliance.org
https://ancientforestalliance.org/wp-content/uploads/2018/08/Hadwins-Judgement-Poster.jpeg
800
565
fairwindcreative
https://ancientforestalliance.org/wp-content/uploads/2014/10/cropped-AFA-Logo-1000px.png
fairwindcreative
2016-09-22 00:00:00
2023-01-27 12:00:15
VICTORIA: Hadwin's Judgement – Film Screening Fundraiser for the Ancient Forest Alliance! Sept. 29