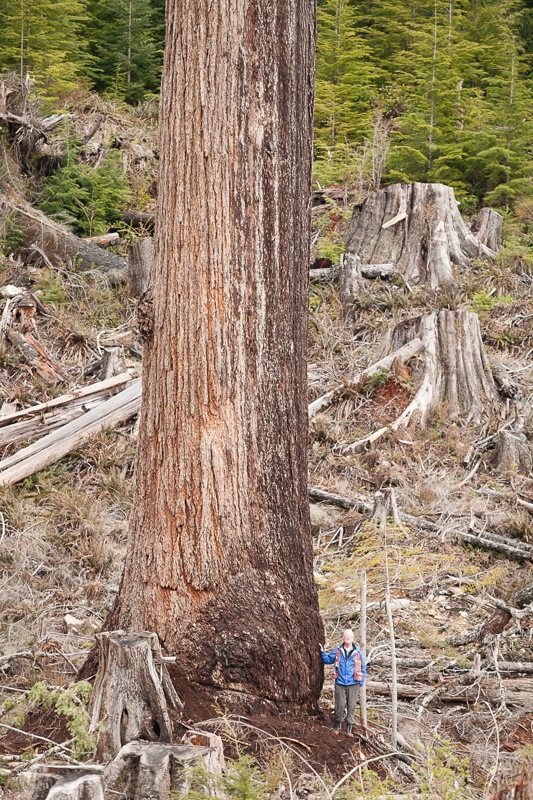 Apr 24
2014
B.C.'s 'Big Lonely Doug' is the second-largest tree in Canada
PORT RENFREW — As trees go, it is one colossal conifer.
Tape measures confirm that a Douglas fir tree on Vancouver Island is officially the second-largest in Canada.
According to the B.C. Big Tree Registry run by the University of B.C., the tree — dubbed "Big Lonely Doug" by those who found it — stands 70.2 metres high, about as tall as an 18-storey building, and has a diameter almost that of a mid-sized car.
It takes 11.91 metres of tape to wrap round the base of the enormous evergreen and at the top, the tree's canopy spreads across 18.33 metres.
Conservationists believe the tree near Port Renfrew, on southern Vancouver Island, could be as much as 1,000 years old.
The country's largest Douglas fir, located in the San Juan River Valley 20 kilometres east of Big Lonely Doug, stands 73.8 metres tall and has a circumference of 13.28 metres.
Environmentalists opposed to clear-cut logging are calling on the government to stop logging in old-growth forests such as the ones where these towering trees are found.
Read more: https://www.theprovince.com/technology/Vancouver+Island+Lonely+Doug+second+largest+tree+Canada/9771718/story.html
https://ancientforestalliance.org/wp-content/uploads/2018/08/Big_Lonely_Doug_Andy_large.jpg
800
533
fairwindcreative
https://ancientforestalliance.org/wp-content/uploads/2014/10/cropped-AFA-Logo-1000px.png
fairwindcreative
2014-04-24 00:00:00
2018-10-19 15:41:21
B.C.'s 'Big Lonely Doug' is the second-largest tree in Canada