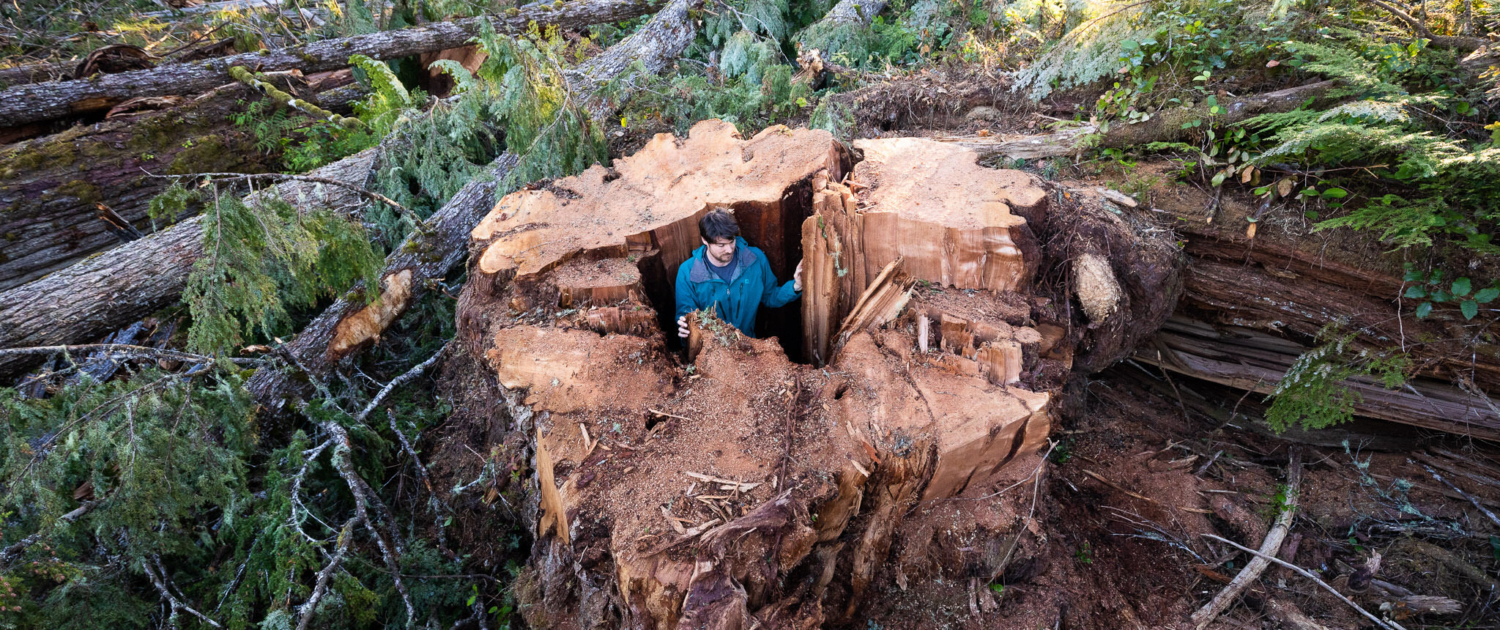 May 11
2023
The Guardian: Images of felled ancient tree a 'gut-punch', old-growth experts say
May 11, 2023
The Guardian
By Leyland Cecco
Shocking photos of chopped-down tree in western Canada highlights flaws in plan to protect forest from loggers, activists say
Stark images of an ancient tree cut down in western Canada expose flaws in the government's plan to protect old-growth forests, activists have said, arguing that vulnerable ecosystems have been put at risk as logging companies race to harvest timber.
As part of an effort to catalogue possible old growth forests, photographer TJ Watt and Ian Thomas of the environmental advocacy group Ancient Forest Alliance travelled to a grove of western red cedars on British Columbia's Vancouver Island. But then they arrived to the forest in Quatsino Sound, they found hundreds of trees that has recently been logged.
"It's absolutely gut-wrenching to see a tree lying on the ground, and to think that it had lived for more than 500 years and then it can be gone in the blink of an eye, never to be seen again," said Watt, who photographed the forest as part of a grant from the Trebek Initiative, a partnership between the National Geographic Society and the Royal Canadian Geographical Society named after the late Jeopardy host.
Watt's images have been used previously to highlight the dramatic change to landscapes after an old-growth forest is cleared.
In November 2021, amid mounting public frustration over the destruction of old-growth trees, the British Columbia government deferred logging in 2.6 million hectares within the most at-risk forests. The BC government has also pledged to protect 30% of the province's land area by 2030, part of broader efforts within Canada to meet biodiversity preservation goals.
Since outlining its planned deferrals, however, less than half of the proposed areas have been agreed upon by the province and First Nations communities, whose consent is required. A number of First Nations are actively involved in the logging industry and would see a drop in revenues if logging in their territory was halted. Groups such as the Ancient Forest Alliance say more funding is needed to help offset lost forestry revenues among First Nations.
Critics of the province's deferral plans also say there are problems in the original recommendations, including an admission from the technical advisory panel that a number of forests are likely been incorrectly classified. In the case of the cutblock found by Watt and Thomas, held by Western Forest Products and logged in late 2022, it was classified as 210 years, younger than the province's 250-year-old threshold for being considered old-growth. The company did not immediately respond to a request for comment.
"It just underscores the fact that the logging industry is racing to cut the biggest and best trees while they still can," said Watt. "Tree-planting does not replicate a complex old-growth forest ecosystem. Knowing this forest could potentially have been left standing, had it been identified properly by the province, is also another punch to the gut."
Currently, there are no mechanisms in place for the public or industry to flag forests with trees older than those the province has identified.
"The province admitted the data was going to be somewhat imperfect. We've said that citizens and scientists should be able to identify and point out areas missed for deferral. Logging companies should be required when they're doing their planning and surveys to compare it to that criteria," said Watt.
Timber companies are not obliged to cut down all trees within an approved cutblock. In 2011, logger Dennis Cronin famously stumbled upon a towering Douglas fir, likely more than 1,000 years old, on the west coast of Vancouver Island. The rest of the forest was logged, but Big Lonely Doug was spared.
"Progress is being made, but clearly there are still loopholes. We need to make sure that the province is following through on all of their commitments to protect these endangered ecosystems, and not letting anything slip through the cracks," said Watt.
"There's no argument that can be made, when you see these trees that are centuries old, that they should be cut down."
See the original article here.
https://ancientforestalliance.org/wp-content/uploads/2023/05/old-growth-logging-quatsino-vancouver-island-1024-1.jpg
1365
2048
TJ Watt
https://ancientforestalliance.org/wp-content/uploads/2014/10/cropped-AFA-Logo-1000px.png
TJ Watt
2023-05-11 15:21:45
2023-05-12 10:57:11
The Guardian: Images of felled ancient tree a 'gut-punch', old-growth experts say