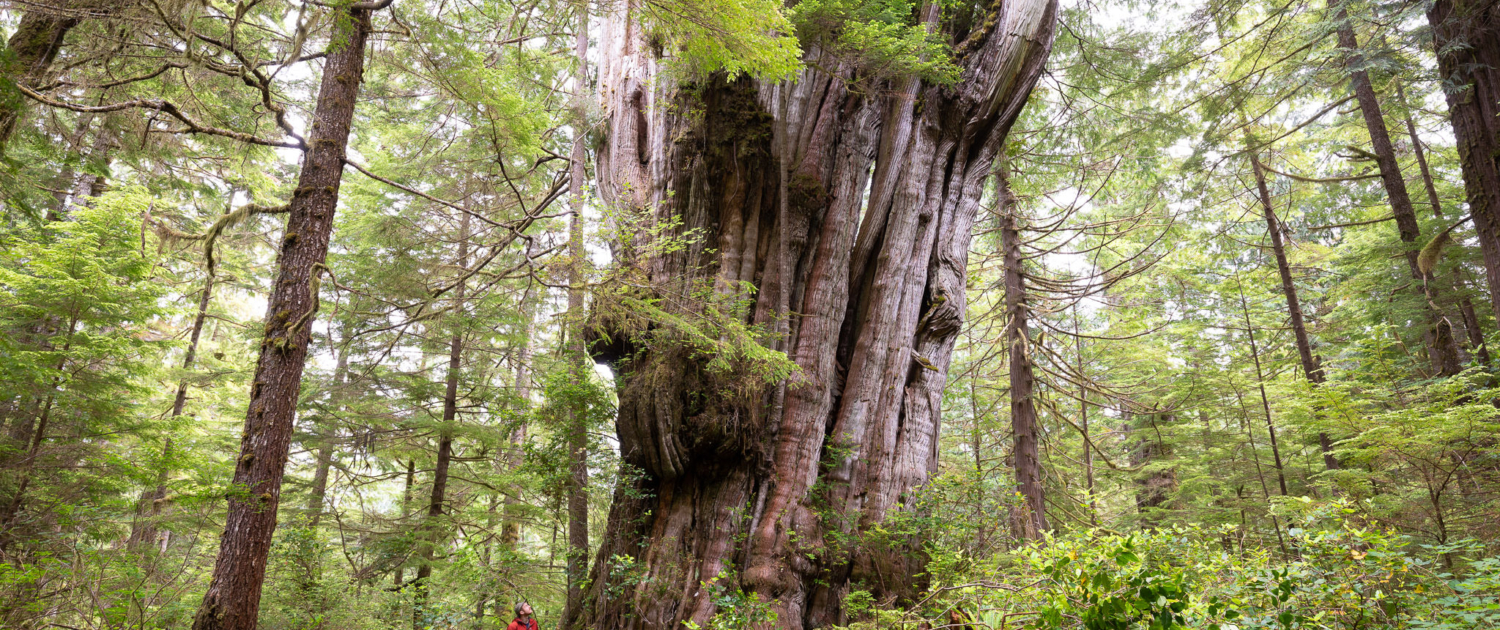 Jul 28
2023
Existence of massive, 'mind-blowing' old-growth tree revealed in Clayoquot Sound
July 27, 2023
The National Observer
By Clayton Keim
An enormous old-growth cedar tree has been identified in Vancouver Island's Clayoquot Sound, possibly dating back over a millennium.
The western redcedar reaches a towering height of 46 metres and stands five metres wide at its base.
It is currently the sixth largest redcedar in Canada, according to the BC Big Tree Registry. TJ Watt, a photographer with the Ancient Forest Alliance, was awed when he initially encountered the tree. "It was absolutely mind-blowing.
"It didn't even look like a tree at first from a distance; it looks more like a rock wall," he said. "It really defies words, and it stands in a class of its own."
The Ahousaht Nation, whose territory encompasses many old-growth forests including those on Clayoquot Sound, has been aware of the tree for some time. The decision to highlight its existence was made, in part, to promote the protection of old-growth trees across B.C. "We need to do more to protect these types of forests because there are fewer and fewer left," said Tyson Atleo, hereditary representative for the Ahousaht Nation.
"We know that we are causing significant destruction of old-growth rainforests that we are really collectively dependent on as a species for the biodiversity that they uphold, as well as for carbon sequestration."
Many comparable old-growth cedars in B.C. are widest at the base, gradually tapering off as they grow larger. Watt was shocked when this tree inverted the structure of comparable trees. "The trunk expands ever wider as it goes up into this sprawling, fortress-like canopy," he said, going on to describe it as "the most impressive tree in Canada given its size."
Cedar trees hold a unique significance to the Ahousaht Nation due to their versatility and abundance; they are used for housing, cooking and transportation. Bark that is stripped and soaked in water becomes soft and pliable, and is used for clothing.
"Cedar is really the tree of life to our people, as it provides us with the materials to live a healthy and happy life in this region," said Atleo.
Research into old-growth forests has applications for both medicine and ecological conservation. "The canopy of this tree is filled with various types of epiphytes [moss, ferns and lichens], other trees, moss maps and canopy soils," explained Watt. "Undoubtedly, there are new species to be found suspended up above the forest floor." For those discoveries to take place, however, old-growth forests must be protected.
Conservation groups are calling for the B.C. government to recognize the importance of arboreal protection. "If they skirt around the forests that are most at risk and only protect those that were not truly at risk of logging to begin with, then it won't be doing justice to these forests," Watt said.
Read the original article here.
https://ancientforestalliance.org/wp-content/uploads/2023/07/Flores-Island-Clayoquot-Sound-147.jpg
1365
2048
TJ Watt
https://ancientforestalliance.org/wp-content/uploads/2014/10/cropped-AFA-Logo-1000px.png
TJ Watt
2023-07-28 16:47:34
2023-07-28 16:54:47
Existence of massive, 'mind-blowing' old-growth tree revealed in Clayoquot Sound