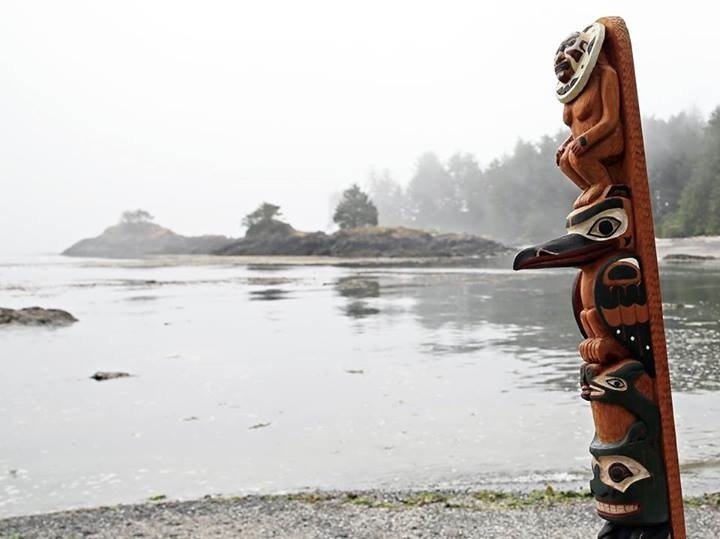 Apr 23
2014
First Tribal Park in BC/Indigenous Relations, Meares Island, Turns 30 Years Old and is Expanded
Vancouver Island, Canada
Yesterday, April 20th 2014, the 30 year anniversary of the Meares Island Tribal Park Declaration was celebrated by the Nuu-Chah-Nulth people of Clayoquot Sound on Vancouver Island along with their various friends and supporters, and a new Tribal Park declaration was made by Tla-o-qui-aht which effectively protects the rest of their territory including the resort municipality of Tofino.
The Meares Island Tribal Park was the first Tribal Park declared in British Columbia, and resulted in keeping the island's majestic old-growth red-cedar forests still standing to this day. Since that time the Tribal Park model has not only been expanded by Tla-o-qui-aht in their own territory, but has also inspired First Nations' protected areas across British Columbia and increasingly, around the world.
"The declaration of Meares Island as a Tribal Park 30 years ago set in motion an idea that has caught and spread throughout indigenous communities, that we can sustain our cultures by safeguarding the land and living things that provide for us," stated Eli Enns, Tla-o-qui-aht co-founder of the Ha'uukmin (Kennedy Lake Watershed) Tribal Park in Clayoquot Sound. "We can assert our own management plans for our territories, as we have been doing for thousands of years, so that we can continue to live in harmony with the land that sustains us – and all of humanity."
30 years ago, on April 21, 1984, the Tla-o-qui-aht and Ahousaht First Nations bands declared Meares Island as Canada's first "Tribal Park" in a bid to stop logging plans of its old-growth forests. Protests were organized in Tofino, Victoria, and eventually on Meares Island in 1984, when the Tla-o-qui-aht and Ahousaht people were joined by non-First Nations allies at BC's first logging blockade. The protests successfully fended off MacMillan Bloedel's logging plans until March 27, 1985, when the BC Court of Appeal ruled that no logging could occur on Meares Island until aboriginal land claims had been settled in the region.
Tla-o-qui-aht First Nations
Recently, the declaration of the Tranquil Valley near Tofino as a Tribal Park has been making headlines in light of a proposed gold mine there, which the Tribal Park forbids. See: https://www.vancouversun.com/Vancouver+Island+First+Nation+declares+tribal+park+protect+land/9735029/story.html
"We have just finished a tribal park planning initiative that sustains jobs for 500 years, not just 10 years of jobs and 500 years of impact," said Saya Masso, Tla-o-qui-aht band councillor and resource manager. "We are developing plans for our long-term future. We regard fish as a value, the serenity of our lands, and spiritual practices that we have to do there as all vital for our culture."
Tla-o-qui-aht Tribal Parks are also increasingly being recognized as a model in the global conservation arena through the Indigenous Peoples' and Community Conserved Territories and Areas (ICCA) consortium (see:https://www.iccaconsortium.org/), an international organization promoting indigenous peoples' conservation areas across the globe. The ICCA recently brought indigenous conservationists and allied non-profit organizations together in Tofino Territory in November 2013, to gain insight from the Tla-o-qui-aht model of Tribal Parks and to assist in building networks of indigenous conservationists around the world promoting similar initiatives in their own territories.
"You are welcome to come ashore and join us for a meal; but you have to leave your chainsaws in your boats. This is not a tree farm – this is Wah-nah-juss Hilth-hooiss, this is our Garden, this is a Tribal Park." declared Moses Martin respectfully on the front lines of the blockades in 1984. Thirty years later, in his same respectful manor, Moses spoke of the critical need to continue to work together, First Nations and non-first nations alike, to ensure a healthy environment and sustainable economy for everyone.
For more information contact:
Terry Dorward
Tribal Parks Manager
1-250-725-3350
Read more and view photos at: https://www.facebook.com/tlaoquiaht/photos/a.1427650360817434.1073741828.1427644927484644/1429096590672811/?type=1&theater
https://ancientforestalliance.org/wp-content/uploads/2018/08/Tla-o-qui-aht_Photos_large.jpg
539
720
fairwindcreative
https://ancientforestalliance.org/wp-content/uploads/2014/10/cropped-AFA-Logo-1000px.png
fairwindcreative
2014-04-23 00:00:00
2018-10-19 15:45:32
First Tribal Park in BC/Indigenous Relations, Meares Island, Turns 30 Years Old and is Expanded