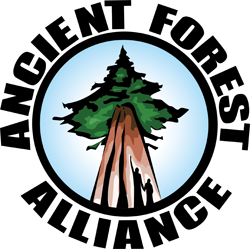 Duration: Full-time, one-year contract position with possibility of extension
Location: Vancouver Island
Compensation: $55,000-60,000 per annum
Deadline for applications: Position will remain open until filled
Start date: August 16, 2021
The Ancient Forest Alliance (AFA) is a registered non-profit society dedicated to protecting BC's remarkable and endangered old-growth forests while ensuring a sustainable, second-growth forest industry. The AFA has grown rapidly since our founding in 2010, reaching international audiences through our hard-hitting advocacy and awareness-raising campaigns. We specialize in public education and engagement, building alliances with key allies, research, and lobbying governments to achieve policy change for BC's ancient forests. In 2020, the NDP provincial government made a promise to overhaul BC's forest policies and increase protection of old-growth forests. By joining the AFA at this pivotal time, you could be part of one of the greatest old-growth conservation wins in BC's history.
Position Overview:
The AFA is seeking an experienced and highly motivated Community Engagement Specialist to join the team. Reporting to the Executive Team and working closely with the campaigners, the Community Engagement Specialist will be responsible for building alliances and working cooperatively with impacted communities, including First Nations governments (both hereditary and elected band councils), knowledge holders, community members, and grassroots groups, as well as forestry and natural resource workers, industry associations, subject matter experts, NGOs, governments, and others. Based from the candidate's home office anywhere on Vancouver Island, this critical role will help deliver key campaign projects by engaging and supporting communities to further conservation and economic solutions that benefit old-growth forests, biodiversity, and community wellbeing. Bring your well-honed people skills, passion for nature, strategic thinking, and creativity to the task of protecting BC's spectacular ancient forests.
Key Responsibilities:
Work with the AFA team to develop and execute community engagement strategies in support of campaign goals.
Establish and maintain contact with various Indigenous and non-Indigenous, land-embedded communities, organizations, and individuals in BC, building upon existing relationships, and forging new relationships. Emphasis will be placed on understanding the specific economic, land-use, and social needs identified by these communities.
Engage and work with First Nations leaders and governments, municipal leaders, and community groups to aid decision-making and support efforts to protect old-growth forests and diversify local economies.
Help coordinate campaign projects (e.g. external research) and manage project timelines and budgets.
Act as an advisor to the campaign team on effective collaborations with Indigenous peoples in rural BC.
Organize and deliver events, hikes, presentations, meetings and gatherings to advance dialogue and knowledge sharing
Explore and help document endangered old-growth forests.
Essential Skills & Experience
At least 5 years' experience in a similar role
Certification in specialized study/training (economic development, Indigenous awareness) considered an asset.
Experience engaging and working with impacted communities (local governments and grassroots groups); Indigenous leadership and communities; political, industry, or economic development organizations or associations; and other allies.
Has a sophisticated understanding of First Nations governance structures as well as the socio-economic and political conditions in Indigenous and rural communities in BC.
Understanding of issues related to environmental conservation, climate change, Indigenous rights, BC's forest sector, forest ecology, and/or BC politics.
Demonstrated success developing and implementing community engagement strategies.
Experience facilitating group meetings, discussions, or planning sessions.
Proven ability to deliver projects on time and within budget.
The successful candidate(s) is someone who:
Is passionate about old-growth conservation and fully supports AFA's mandate.
Thinks strategically while considering social, political, economic, and other relevant factors at play.
Is skilled at making complex ideas understandable and appropriate to specific audiences.
Has sound judgement, strong relationship-building and interpersonal skills.
Has strong organizational and project management skills.
Is highly self-motivated and works independently, while also being a strong contributor to a vibrant team.
Can work effectively under pressure and prioritize in order to meet deadlines.
Is willing to travel within southwest BC, when possible to do so safely.
Why work for the AFA?
Save the remaining old growth forests in BC
Tight-knit, highly motivated, and supportive team
Friendly and flexible work environment
Occasional team trips to beautiful, remote old-growth forests
Opportunities for professional development
The chance to learn about and contribute meaningfully to an important cause during a critical time.
How to apply:
The deadline to apply is Sunday, July 25, 2021
Please submit your application to Andrea at info@ancientforestalliance.org with "Application: Community Engagement Specialist" in the subject line.
Please send a cover-letter and resume/CV in

one

PDF document with only your first and last names in the file name.
No phone calls please. Only those candidates selected for an interview will be contacted.
The AFA is an equal opportunity employer. Qualified persons are encouraged to apply regardless of their religious affiliation, race, age, sex, sexual orientation or nature of disability. Please feel free to self-identify in your application if you would like to.