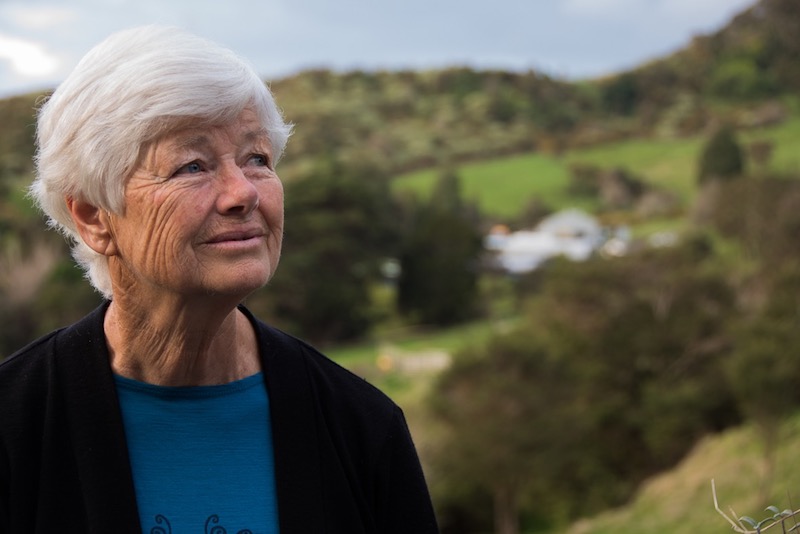 May 3
2018
New Zealand Shows the Way for BC to End Old-Growth Logging
New Zealand Shows the Way for BC to End Old-Growth Logging
The co-leader of the Green Party of Aotearoa New Zealand (1995 to 2009), Jeanette Fitzsimons, who successfully worked for an old-growth logging ban in that country by 2001, says the same can and should be done in British Columbia.
"After decades of protests, arrests, meetings, negotiations, and public mobilizations, New Zealanders by 1999 were sufficiently fed up with the logging of our old-growth forests. This made it possible that, once a new Labour government came to power tied to a governing agreement with the Green Party, we were finally able to implement a legislated ban on logging of our native forests on Crown lands, while directing the vast majority of the logging industry to focus on the tree plantations instead," said Fitzsimons.
"I would encourage the new BC NDP government and the BC Green Party to put this issue front and centre, and work to swiftly bring an end to the logging of old-growth forests on Vancouver Island and in regions of your province where old-growth forests are endangered," continued Fitzsimons.
Fitzsimons' comments come after a recent trip to New Zealand by the Ancient Forest Alliance's executive director, Ken Wu, who returned to Canada in April after speaking at a series of forestry and green building conferences about the importance of protecting BC's old-growth forests and halting the importation of endangered old-growth wood from BC into New Zealand. While in New Zealand, Wu chatted with Fitzsimons to learn how the New Zealanders' experience could apply in BC.
"On my trip, I saw that New Zealanders overwhelmingly 'get it', that to log their last old-growth forests would be akin to shooting the last herds of elephants for ivory or harpooning the last blue whales. It makes no ethical or economic sense when there is an alternative, namely logging their extensive plantation forests. The alternative here in British Columbia is the fact that second-growth stands constitute most of our productive forests lands, and can be sustainably logged. If protecting ancient forests can be done in New Zealand, it can and should be done in British Columbia," stated Ken Wu, Ancient Forest Alliance executive director.
Fitzsimons contributed to the development of legislation that finally ended old-growth logging on public (Crown) lands in 2001 and additional restrictions on logging native forests on private lands as co-leader of the New Zealand Green Party, which had a Confidence and Supply Agreement with the New Zealand Labour government between 1999 and 2002.
Similar to New Zealand, there is now a Confidence and Supply Agreement between the Greens and the labour-orientated New Democratic Party (NDP) government. The Ancient Forest Alliance believes the current situation presents the best opportunity in BC's history to protect its endangered old-growth forests.
The BC Greens promised in their 2017 election platform and still today support an end to the logging of endangered old-growth in BC. The NDP promised in their 2017 platform to manage BC's old-growth based on ecosystem-based management approach of Great Bear Rainforest (BC's north and central coast where 85% of forests were protected based on science), but since then has not acted on this promise and has continued with the status quo of old-growth forest liquidation, as well as mass raw log exports to foreign mills. The Ancient Forest Alliance and other conservation groups are mobilizing the public to put pressure on the NDP government to implement legislative and policy changes to protect endangered old-growth forests while ensuring a sustainable, value-added, second-growth forest industry.
The Ancient Forest Alliance is calling for a science-based Old-Growth Protection Act, financing for First Nations' sustainable economic development and diversification in lieu of old-growth logging, and incentives and regulations to develop a sustainable, second-growth forest industry. By logging second-growth forests that now dominate most of BC's productive forest lands and increasing the number of jobs within the province to manufacture the wood into value-added products, BC will be able to sustain and even enhance forestry employment levels while protecting its remaining endangered old-growth forests. See the 10-point recommendations for forest policies the AFA has sent to the BC government: https://ancientforestalliance.org/news-item.php?ID=1183
"A full transition into an exclusively second-growth forest industry is inevitable in BC when the last of the unprotected old-growth forests groves are all logged," said Wu. "What we're saying is let's make that full transition sooner – much sooner, given the late hour for our ancient forests, before the logging industry has finished them off."
On Vancouver Island and on BC's southern coast, about 25% of the region's original, productive old-growth forests currently remain, with the other 75% now being second-growth forests. In terms of low-elevation, valley bottom old-growth forests where the biggest trees grow, well over 90% has been logged. Only 8% is protected in parks and Old-Growth Management Areas. See maps and stats from 2012 at: https://ancientforestalliance.org/old-growth-maps.php
BC's old-growth forests are vital to sustain unique endangered species, climate stability, tourism, clean water, wild salmon, and the cultures of many First Nations.
BACKGROUND INFORMATION
From the 1970's through the 1990's, New Zealanders rallied, petitioned, wrote letters, climbed and sat in trees, negotiated with logging companies, and mobilized thousands of citizens to get their endangered old-growth beech, rimu, tötara and kauri forests protected. Most logging of publicly owned native forest was halted in the late 1980's; however some logging of old-growth temperate rainforests continued on the South Island's West Coast. By the late 1990's a major campaign spearheaded by the environmental group, the Native Forest Action Council, resulted in widespread public awareness and sympathy to end old-growth logging, while enclaves of opposition remained among some logging companies and their workers. The election of a Labour government in 1999, supported by the Greens in a Confidence and Supply Agreement, created the opportunity to get a legislated ban on old-growth logging.
By 2001, when the legislation took effect, some 6 million hectares of primary or old-growth forests remained in New Zealand, just over 40% of 14.2 million hectares of primary forests that covered the islands at the time of European colonization.
Today the New Zealand economy logs over 30 million cubic metres of wood each year (about 40% of BC's annual cut of 75 million cubic metres), almost exclusively from plantations established largely on agricultural and pasture lands, including Douglas-fir (a dominant species for BC's coastal logging industry), radiata pine (from California), and eucalyptus trees, largely non-native species. British Columbia's second-growth forest industry could be substantially more environmentally-friendly than that of New Zealand's if properly regulated with a sustainable rate of cut and higher forest practices standards, as our second-growth forests are comprised of native species (and should remain that way).
The ancient forest protection movement has also been around in BC since the 1970's and hundreds of thousands of British Columbians have protested, written letters, been arrested and jailed, and put their time, energy, money, and freedom on the line to get these forests protected.
In recent times in BC, the voices for old-growth protection have been quickly expanding, including numerous Chambers of Commerce, mayors and city councils, forestry unions, and conservation groups across BC who have been calling on the provincial government to expand protection for BC's remaining old-growth forests.
BC's premier business lobby, the BC Chamber of Commerce, representing 36,000 businesses, passed a resolution in May of 2016 calling on the province to expand protection for BC's old-growth forests to support the economy, after a series of similar resolutions passed by the Port Renfrew, Sooke, and WestShore Chambers of Commerce. See: https://ancientforestalliance.org/news-item.php?ID=1010
Both the Union of BC Municipalities (UBCM), representing the mayors, city and town councils, and regional districts across BC, and Association of Vancouver Island and Coastal Communities (AVICC), representing Vancouver Island local governments, passed a resolution in 2016 calling on the province to protect the Vancouver Island's remaining old-growth forests by amending the 1994 land use plan. See: https://ancientforestalliance.org/news-item.php?ID=1057
The Public and Private Workers of Canada (PPWC), formerly the Pulp, Paper, and Woodworkers of Canada, representing thousands of sawmill and pulp mill workers across BC, passed a resolution in 2017 calling for an end to old-growth logging on Vancouver Island. See: https://ancientforestalliance.org/news-item.php?ID=1100
In order to placate public fears about the loss of BC's endangered old-growth forests, the government's PR-spin typically over-inflates the amount of remaining old-growth forests by including hundreds of thousands of hectares of marginal, low productivity forests growing in bogs and at high elevations with small, stunted trees, together with the productive old-growth forests where the large trees grow (and where most logging takes place). They also leave out vast areas of largely overcut private managed forest lands – previously managed as if they were Crown lands for decades and still managed by the province under weaker Private Managed Forest Lands regulations – in order to reduce the basal area for calculating how much old-growth forest remains, thereby increasing the fraction of remaining old-growth forests. See a rebuttal to some of the BC government's PR-spin and stats about old-growth forests towards the BOTTOM of the webpage: https://ancientforestalliance.org/news-item.php?ID=1052
Old-growth groves, such as at Cathedral Grove by Port Alberni, Meares Island and the Rainforest Trails in Clayoquot Sound by Tofino, Avatar Grove and the Walbran Valley by Port Renfrew, Prince George's Ancient Forest Trail, Victoria's Goldstream Provincial Park, and Vancouver's Stanley Park, attract millions of tourists from around the world who come to marvel at the giants, which bolsters regional eco-tourism industries in BC. In fact, Port Renfrew, historically a logging town that now promotes eco-tourism, has been rebranded as the "Tall Trees Capital of Canada" in recent years due to its proximity to the Avatar Grove, Central Walbran Valley, Big Lonely Doug (Canada's 2nd largest Douglas-fir), Eden Grove, Red Creek Fir (the world's largest Douglas-fir), Harris Creek Spruce (an enormous Sitka spruce), and San Juan Spruce (previously Canada's largest spruce until the top broke off last year).
https://ancientforestalliance.org/wp-content/uploads/2018/08/Jeanette-Fitzsimons-L.jpeg
534
800
fairwindcreative
https://ancientforestalliance.org/wp-content/uploads/2014/10/cropped-AFA-Logo-1000px.png
fairwindcreative
2018-05-03 00:00:00
2018-10-18 21:38:24
New Zealand Shows the Way for BC to End Old-Growth Logging