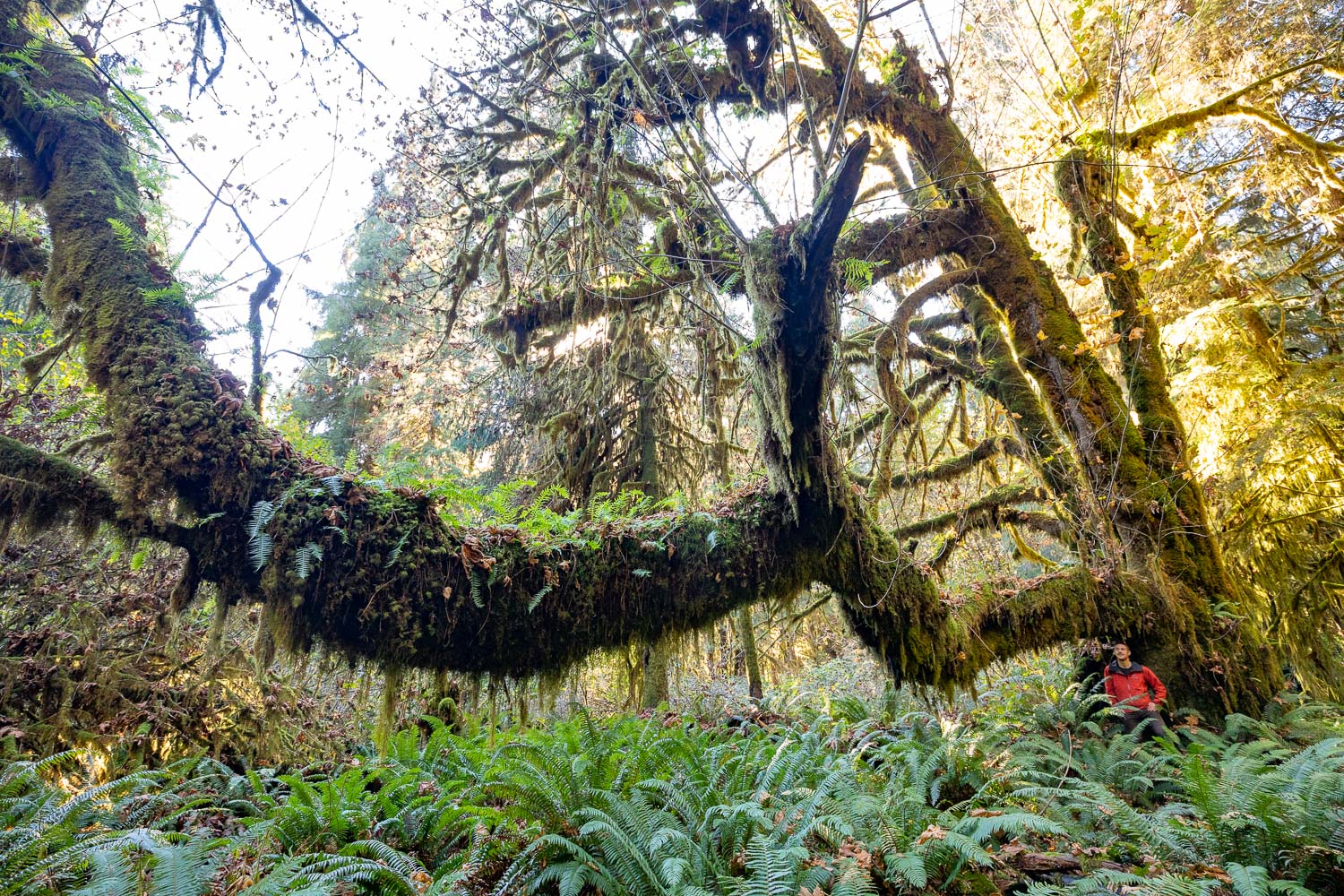 Jan 9
2019
Conservationists locate what may be Canada's most magnificent and photogenic old-growth forest on Vancouver Island
The "Mossome" Grove (short for "Mossy and Awesome" Grove) consists of giant, prehistoric-looking, shaggy bigleaf maples with tall, straight Sitka spruce, and is found near Port Renfrew
Conservationists in British Columbia have recently located what may very well be the most magnificent and awe-inspiring old-growth forest in the country on Vancouver Island. The spectacular, largely unprotected grove, with several near record-size trees, highlights the need for new policies by the BC government to protect BC's biggest trees, grandest groves, and old-growth forest ecosystems. The BC government has recently stated that they are currently developing a new set of policies to manage BC's old-growth forests but have not revealed any details yet.
The 13 hectare grove of immense old-growth Sitka spruce and bigleaf maples draped in hanging mosses and ferns, nicknamed the "Mossome Grove" (short for "Mossy and Awesome" Grove), was initially located in October and explored again in late December by conservationists Ken Wu of the Endangered Ecosystems Alliance and TJ Watt, Andrea Inness, and Rachel Ablack of the Ancient Forest Alliance. The grove is located on Crown land in the San Juan River Valley near Port Renfrew on southern Vancouver Island in the unceded territory of the Pacheedaht First Nation band. Most of the grove is unprotected, with a small portion, about four hectares, lying within an Old-Growth Management Area and in the riparian reserve along the San Juan River.
"This is perhaps the most magnificent and stunningly beautiful old-growth forest I've ever seen, and I've explored a lot of old-growth forests in my time," stated Ken Wu, executive director of the Endangered Ecosystems Alliance and former executive director of the Ancient Forest Alliance and the Wilderness Committee's Victoria office, who has 28 years' experience exploring and campaigning to protect BC's old-growth forests. "This is the first time in Canada we've located a prominent stand of this rare forest type, with old-growth spruce and maple trees growing together. The combination of giant Sitka spruce, as tall and straight as Roman pillars, and huge, ancient, bigleaf maples draped in hanging mosses and ferns, resembling prehistoric shaggy monsters, makes this perhaps the most photogenic forest in the country. Hollywood could not make a more stunning, picture-perfect forest than this one. This is the best example of 'charismatic megaflora' that I've ever seen. Of all of BC's ancient forests, this one deserves protection not only due to the scarcity of its ecosystem type, but because of its sheer unique beauty."
The Mossome Grove stands on Crown lands in the operating area of BC Timber Sales, with a portion within a Woodlot Licence allocated to the Pacheedaht band and the rest under the regulatory authority of BC Timber Sales. BC Timber Sales is the notorious BC government logging agency which has come under fire across the province for auctioning off old-growth forests to be clearcut in such places as the Nahmint Valley and Schmidt Creek on Vancouver Island, as well as in Manning Provincial Park's "donut hole".
Several of the Mossome Grove's largest trees are near record-sized, including a Sitka spruce that would rank the ninth widest in comparison to those currently listed on the BC Big Tree Registry (with a diameter of 3.1 meters or 10 feet & 1 inch) and a bigleaf maple that would rank the ninth widest on the registry (with a diameter of 2.29 meters or 7 feet & 6 inches). The massive maple, nicknamed the "Woolly Giant", also may very well have the longest horizontal branch of any tree in British Columbia, measuring 23.1 meters (76 feet) long – more than the height of many second-growth trees – and is covered in thick mats of hanging mosses and ferns, resembling a prehistoric monster.
Along with its "charismatic megaflora", the Mossome Grove is also home to "charismatic megafauna", including significant numbers of Roosevelt elk, black-tailed deer, black bears, wolves, and cougars, who inhabit the productive San Juan River Valley. Old-growth forests on Vancouver Island in the area are also important habitat for the marbled murrelet, northern goshawk, pygmy owl, screech owl, Vaux's swift, and long-eared bats.
Old-growth Sitka spruce and bigleaf maple stands are best known in the Hoh, Queets, and Quinault Valleys in the Olympic National Park in Washington State, where millions of tourists visit to marvel at the mossy giants. In Canada, such ancient spruce/maple stands are essentially unknown by the conservation movement and tourism industry for the simple reason they are virtually non-existent here, except for this newly-identified stand and possibly a few small patches scattered around southwestern Vancouver Island. At the time of European colonization in BC, there would have been more extensive but still limited old-growth Sitka spruce and bigleaf maples stands in the San Juan, Nitinat, and Fraser Valleys. However, virtually all have been logged or converted to agriculture or urban sprawl (in the case of the Fraser Valley where Vancouver stands today).
"This is like a combination of the monumental Sitka spruce stands of the Carmanah Valley and the gorgeous bigleaf maples of the Mossy Maple Grove that we popularized a few years ago near Lake Cowichan. The two combined are essentially the apex of the grandeur and beauty that could exist in a forest", stated TJ Watt, Ancient Forest Alliance campaigner and photographer. "Photogenically, this grove should be a new poster child for BC's endangered ancient forests – and the urgent need to protect their beauty. We need old-growth protection at all spatial scales at this time, to save the biggest trees, grandest groves, and old-growth forest ecosystems on a vaster scale."
Due to its limited size, the scarcity of this forest type, and the fact that there are no trails, the Endangered Ecosystems Alliance and Ancient Forest Alliance are not publicly revealing the Mossome Grove's location at this time until it can be safeguarded from excessive trampling, and most importantly, from future commercial logging.
The Ministry of Forests, Lands, and Natural Resource Operations and Rural Development since 2012 has been working to develop a "Big Tree Protection Order", a policy originally aimed at protecting the largest trees and grandest groves in BC. Successive governments, including the NDP, have dragged out the policy's development and implementation and appear to be leaving out the most important facets of the proposed policy, that is, to include buffer zones around the largest trees, to include the grandest groves (concentrations of exceptionally large trees), to make the threshold sizes for protection reasonable (instead of protecting only the very few largest trees), and to make the policy legally-binding rather than voluntary. Currently the policy is being piloted in selected parts of Vancouver Island and also in areas managed by BC Timber Sales, where it is called the "Coastal Legacy Tree" policy. The Coastal Legacy Tree policy recently failed to protect the ninth widest Douglas-fir tree in BC in the Nahmint Valley. See: https://www.cbc.ca/news/canada/british-columbia/old-growth-logging-1.4689648
"Without buffer zones to surround and protect the largest trees, and without also protecting the grandest groves, the BC government's currently proposed big tree protection policy is essentially a 'Big Lonely Doug policy' that will leave a few sad giants standing alone in clearcuts scattered around Vancouver Island," stated Andrea Inness, Ancient Forest Alliance campaigner, referring to Canada's 2ndlargest Douglas fir, nicknamed 'Big Lonely Doug' by AFA campaigners who identified the tree in 2014. "The largest trees and grandest groves are like the 'icing on the cake', while protecting old-growth ecosystems on a larger scale, that is, saving the 'rest of cake', is ultimately the most important task. But it would be a shame to lose the icing…without it, a cake is not quite the same."
More background info
While an effective Big Tree Protection Order would be particularly important in cases like the Mossome Grove, more important would be science-based legislation to protect BC's remaining old-growth forest ecosystems on a much more comprehensive scale. While new legislation and updated land use plans are being developed, moratoria on the most intact and highest conservation value old-growth forests like at the nearby Edinburgh Mountain and Upper Walbran Valley need to be implemented in places, while the BC government needs to also implement incentives and regulations for the development of a value-added, sustainable second-growth forest industry.
Conservation financing support from the provincial and federal governments is also needed for BC's First Nations communities to help foster sustainable businesses and jobs in the communities based on eco- and cultural tourism, clean energy development, non-timber forest products (e.g. wild mushroom and berry harvests), sustainable seafood harvesting, and value-added second-growth forestry.
To ensure the protection of all ecosystem types, federal and provincial "Endangered Ecosystems Acts" are also needed to establish science-based protection and recovery targets for all ecosystems across Canada, including rare plant communities such as old-growth Sitka spruce and bigleaf maple groves like Mossome Grove.
In the interim, the federal government has committed to protecting 17% of Canada's land and freshwater ecosystems by 2020 and must greatly step up its prioritization and activity to achieve this target (currently Canada is at 10.6% protection). In particular, most of the provinces, including British Columbia, must still commit to meeting the 17% target, and conservation groups will be lobbying the province to adopt this target shortly.
Old-growth forests are vital to sustaining unique endangered species, climate stability, tourism, clean water, wild salmon, and the cultures of many First Nations. On BC's southern coast, satellite photos show that at least 75% of the original, productive old-growth forests have been logged, including well over 90% of the valley bottoms where the largest trees grow. Only about 8% of Vancouver Island's original, productive old-growth forests are protected in parks and Old-Growth Management Areas. Old-growth forests, with trees up to 2,000 years old, are a non-renewable resource under BC's system of forestry, where second-growth forests are re-logged every 50 to 100 years, never to become old-growth again.
The Ancient Forest Alliance is calling on the BC government to implement a comprehensive, science-based plan to protect all of BC's remaining endangered old-growth forests while also ensuring a sustainable, value-added, second-growth forest industry.
Due to the popularity of nearby old-growth forests for large numbers of visitors from across the world, the former logging town of Port Renfrew has rebranded itself in recent years as the "Tall Trees Capital of Canada." Not only is the town located near Mossome Grove, but is also near many of the province's most popular ancient forest destinations including the Avatar Grove, Central Walbran Valley, Big Lonely Doug (Canada's 2nd largest Douglas-fir), Red Creek Fir (the world's largest Douglas-fir), Harris Creek Spruce (an enormous Sitka Spruce), San Juan Spruce (previously Canada's largest spruce until the top broke off last year), Eden Grove, and Jurassic Grove. These ancient forests and trees attract hundreds of thousands of tourists from around the world, strengthening the economy of southern Vancouver Island. Environmental groups encourage visitors to stay in local accommodations, buy food and groceries in local stores, and camp in the Pacheedaht-run campground to help boost the local economy with eco-tourism dollars.
Various chambers of commerce, starting with the Port Renfrew Chamber of Commerce, have called for increased protection of BC's ancient forests. The BC Chamber of Commerce, BC's premier business lobby representing 36,000 businesses, passed a resolution in May of 2016, calling on the province to expand protection for BC's old-growth forests to support the economy, after a series of similar resolutions passed by the Port Renfrew, Sooke, and WestShore Chambers of Commerce. See: www.ancientforestalliance.org/news-item.php?ID=1010
Both the Union of BC Municipalities (UBCM), representing the mayors, city and town councils, and regional districts across BC, and Association of Vancouver Island and Coastal Communities (AVICC), representing Vancouver Island local governments, passed a resolution in 2016 calling on the province to protect Vancouver Island's remaining old-growth forests by amending the 1994 land use plan. See: https://ancientforestalliance.org/news-item.php?ID=1057
The Private and Public Workers of Canada (PPWC), formerly the Pulp, Paper, and Woodworkers of Canada, representing thousands of sawmill and pulp mill workers across BC, passed a resolution in 2017 calling for an end to old-growth logging on Vancouver Island. See: https://ancientforestalliance.org/news-item.php?ID=1100
See maps and stats on the remaining old-growth forests on BC's southern coast at: www.ancientforestalliance.org/old-growth-maps.php
In order to placate public fears about the loss of BC's endangered old-growth forests, the BC government's PR-spin typically over-inflats the amount of remaining old-growth forests by including hundreds of thousands of hectares of marginal, low productivity forests growing in bogs and at high elevations with smaller, stunted trees, in with the productive old-growth forests, where the large trees grow (and where most logging takes place). See a rebuttal to some of the BC government's PR-spin and stats about old-growth forests towards the BOTTOM of the webpage: https://ancientforestalliance.org/news-item.php?ID=1052
https://ancientforestalliance.org/wp-content/uploads/2019/01/mossome-grove-wolly-giant-maple-tj.jpg
1000
1500
TJ Watt
https://ancientforestalliance.org/wp-content/uploads/2014/10/cropped-AFA-Logo-1000px.png
TJ Watt
2019-01-09 18:31:12
2023-04-06 19:07:18
Conservationists locate what may be Canada's most magnificent and photogenic old-growth forest on Vancouver Island