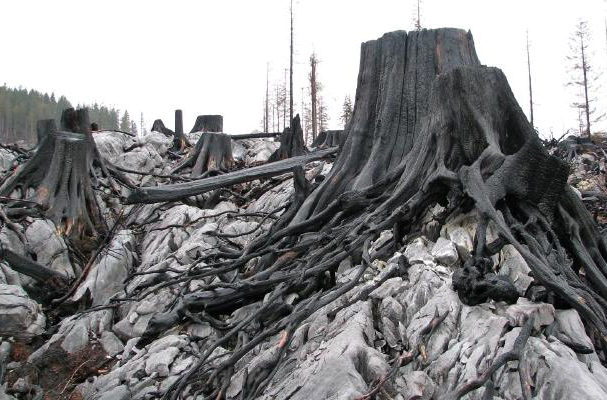 Mar 15
2010
A patch of the Tahsish River Valley on western Vancouver Island is the new poster child for the ecological impact of old-growth logging — this time on limestone karst, perhaps the world's most fragile landscape.
The two-square-kilometre patch of old-growth was logged close to a decade ago; then, last July, a forest fire swept through the exposed clearcut.
The effect of those two events — only now coming to public attention — is a scorched landscape in which the soil has been burned and washed away, leaving an ecological wasteland and a call for greater conservation in future.
Paul Griffiths, a Campbell River-based consultant and B.C.'s foremost authority on karst landscapes, said the devastation underscores the need to preserve what little old-growth forest remains on important karst on the coast.
Karst is a distinctive soluble rock landscape, featuring subterranean drainage resulting from water dissolving and enlarging cracks, fractures and joints in bedrock.
The process can produce fantastic features such as caves, fluted or grooved rock surfaces, sinkholes, arches, shafts, canyons and springs.
The Tahsish valley was touted as a national park in the 1970s due to the combination of fragile karst features and biologically diverse old-growth forests, but has since been heavily logged.
In 1997, overall 67 per cent of rainforest karst landscape on the B.C. coast had been logged (76 per cent on the north island and central coast, and 43 per cent logged in Haida Gwaii), Griffiths said.
In response, forests ministry spokeswoman Vivian Thomas said that fire behaviour depends on a number of factors, including fuel type, seasonal and daily weather conditions and topography.
"Without conducting a detailed analysis … it is not possible to draw a conclusion as to whether harvesting was a factor in either the fire behaviour or the impacts on the soil."
She added that subsequent to logging in the main Tahsish valley, orders were established in 2007 to "protect karst from logging" in the Campbell River and North Island Central Coast forest districts, followed in 2009 by the South Island Forest District.
Griffiths said the ministry deserves credit for those orders, which specifically make reference to "high and very high vulnerability karst landscapes" and "significant surface karst features."
But he said that logging professionals in the field may not have the experience or desire to adequately assess the importance of a karst landscape and may not appreciate the interconnectivity of the forest and the karst.
There has not yet been a test of a contravention of the orders, he said.
As for harvesting's influence on the Tahsish fire impact, Griffiths said: "In 40 years, I've never seen this kind of soil loss in a fire-damaged stand."
Old-growth standing timber next to the clearcut survived the fire. "I'd ascribe the difference to the intensity of the burning on the cutblock because it was logged."
The karst ecosystem is highly vulnerable to surface disturbance, including clearcut logging that alters the natural hydrology. In the Tahsish valley burn site, water that once percolated through a lush old-growth forest now gushes into the ground, making it very difficult for soil to rebuild and allow a forest to regrow.
Karst under natural conditions also has a purifying effect on water and can be home to various lifeforms found nowhere else, including blind species living in utter darkness.
The International Union for Conservation of Nature in 1997 stated: "Caves and karst are especially vulnerable and probably more so than most other land resources."
Griffiths said some good can still be gleaned from the July fire, because it represents a good opportunity to study the recovery of a karst forest landscape after such devastating circumstances.
Globally, little research has been done on the impact that fires on logged forests can have on lifeforms existing in the upper limestone or epikarst.
Griffiths said the province phased out large-scale burning over clearcuts in the early 1980s, but piles of wood are still burned and forest fires remain a threat.
A 1993 study by Kathy Harding and Derek Ford in the Benson River Valley of northern Vancouver Island and published in the journal Environmental Geology found there was "greater loss of soil and an increase in bare rock" on logging sites on limestone. It added that "steeper slopes and harder burned areas suffered the most and are slowest to regenerate."
Scott Fraser, NDP MLA for Alberni-Pacific Rim, said he will be introducing a private member's bill this spring intended to bring greater protection for karst landscapes from all human activities — not just forestry, but mining, recreation and land development as well.
He said the impact of logging atop karst in the Tahsish valley "begs for proper regulations … for these very sensitive ecosystems."
Read more: https://www.timescolonist.com/growth+logging+blamed+Island+wasteland/2682845/story.html#ixzz0iGeiLawo
https://ancientforestalliance.org/wp-content/uploads/2018/08/Karst_Erosion_HR.jpg
400
607
fairwindcreative
https://ancientforestalliance.org/wp-content/uploads/2014/10/cropped-AFA-Logo-1000px.png
fairwindcreative
2010-03-15 00:00:00
2018-12-04 20:55:59
Old-growth logging blamed for Island wasteland