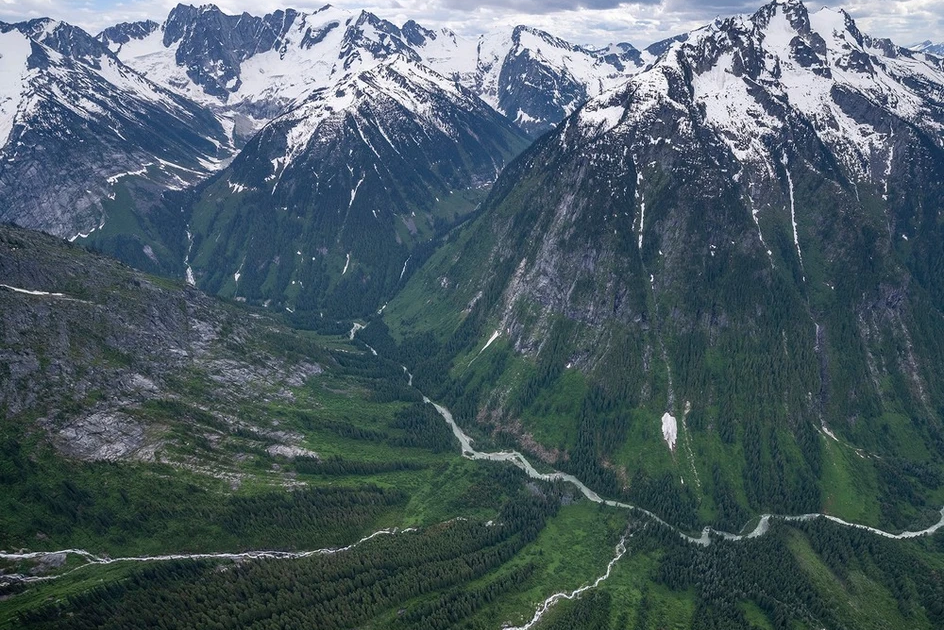 Jan 26
2023
Rare swath of BC rainforest set aside for permanent protection
January 26, 2023
The Vancouver Sun
By Derrick Penner
Photo by Paul Zizka
Nestled in the Selkirk Mountains the Incomappleux Valley is a rare 1,000-year-old Interior temperate rainforest
The province has committed to protecting the still-intact swaths of rare interior temperate rainforest in the Incomappleux Valley east of Revelstoke in a deal brokered by the Nature Conservancy of Canada.
The agreement, unveiled by Premier David Eby and Environment Minister George Heyman in Victoria Wednesday, calls for 750 square kilometres of the valley to be protected, 580 sq km outright as an official conservancy, 170 sq km as a restricted development zone.
The valley, nestled in the Selkirk Mountains 29 km east of Revelstoke, bears scars from logging in its lower portion, but its upper reaches that border Glacier National Park include pristine, 1,000-year-old stands of western red cedar and hemlock that are home to species at risk wildlife, including grizzly bears and mountain caribou.
"Incomappleux is one of the greatest treasures," Eby said. "It's home to old-growth cedar and hemlock trees that are four metres in diameter," which the 6-foot-5 premier joked is "two of me sideways."
And it's home to 250 species, including rare lichens and rare bats. Eby characterized the conservancy as "one of the most significant protected areas established in the province in a decade."
Conservation groups, including the Valhalla Wilderness Society, have campaigned for decades to protect the Incomappleux and raised the issue with Environment Minister George Heyman "continually almost since Day 1 of me holding this office," he said.
Incomappleux Valley was one of nine old-growth zones identified for immediate deferral under the province's old growth strategic review and former forest minister Doug Donaldson set aside 440 sq km to be considered for more formal protection.
The Nature Conservancy of Canada stepped into the discussions in 2018, recognizing it could play a role as a "facilitator and collaborator (to) bring together industry and governments and Nations," according to Nancy Newhouse, the organization's BC vice-president.
The conservancy is well known for brokering the purchase of private land for preservation, but Newhouse said it also works with companies on preserving connected ecosystems on public land.
In this instance, the conservation group raised $4 million via the Nature Canada fund from Environment and Climate Change Canada, mining company Teck Resources and two private foundations, the Wyss Foundation based in Washington, D.C. and Seattle-headquartered Wilburforce Foundation.
And the lumber company Interfor relinquished its cutting rights within the valley under timber licenses in exchange for a payment under terms of the deal.
Newhouse described the initiative as "a very important project in terms of the alignment with the global biodiversity framework," under which Canada has committed to conserving 30 per cent of its lands as a means to protect biodiversity.
From the perspective of regional First Nations, the establishment of the conservancy means "we're entering maybe into what should be just a stepping stone to improving what is actually happening," in their traditional territories, said Kukpi7, James Toma of the Skw'lax te Secwépemcúlecw Nation.
However, while large parts of the Incomappleux with significant ecological values are being protected, much of the valley "is completely logged," said forest ecologist Rachel Holt.
Holt, who sat on former Premier John Horgan's old-growth expert panel, said groups have fought to preserve those high-value areas of Incomappleux for a long time, "which should have been, without question," under existing policy.
"Nevertheless, a large conservancy is a positive step that will allow restoration of those ecosystems to occur," Holt said. "That's all good."
As a first step, Holt said protecting the Incomappleux was a relatively easy decision because there was a rockfall about a decade ago that cut off road access to much of the valley "so it was not about to be logged."
She added that the Incomappleux is bordered by other landscapes that are of equally high value as habitat where she hoped existing policy could also be used to scale back logging.
"What we have to do now is move these concepts forward and make some of the harder decisions," Holt said.
Across the province, "all the valley bottoms, all the different low-elevation ecosystems are very under-represented in our protected areas," Holt said.
"And that's where the hard decisions are going to be in protecting ancient old growth that is absolutely irrecoverable," Holt said.
Read the original article.
https://ancientforestalliance.org/wp-content/uploads/2023/01/incommapleux_zizka_005_2000_275398261.webp
708
944
TJ Watt
https://ancientforestalliance.org/wp-content/uploads/2014/10/cropped-AFA-Logo-1000px.png
TJ Watt
2023-01-26 12:21:59
2023-03-10 10:14:00
Rare swath of BC rainforest set aside for permanent protection