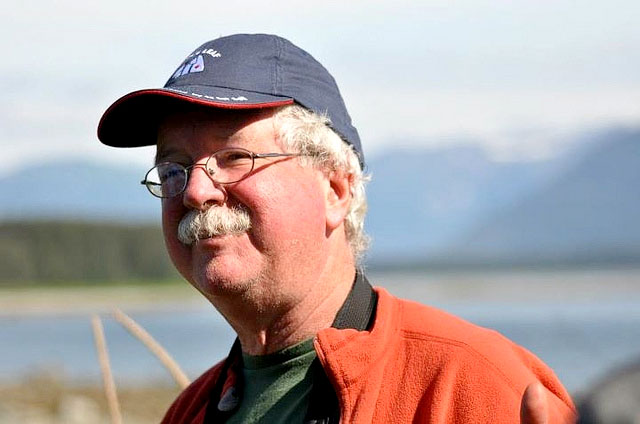 Jun 4
2013
The rock star of botanists
Simon Fraser University is about to give its highest honour to a man who eats mosquitoes to turn his breath into bug repellent.
It's unclear whether the university will award botanist Andy MacKinnon an honorary doctorate this month because of his taste in bugs, or in spite of it.
Each spring, MacKinnon kills and consumes a mosquito in a belief its colleagues will find his breath so foul they'll avoid him for the next seven months. He bagged this year's victim in March on the banks of the Yakoun River in Haida Gwaii.
The unfortunate insect commended itself as a sacrifice by alighting on the left cheek of MacKinnon's face.
"They have a nice little tart tang to them," MacKinnon says. "A bit like mayflies, but smaller. I Kinnon says. "A bit like mayflies, but smaller. I would encourage you to give it a try yourself."
MacKinnon – who should perhaps be renamed Dances With Bugs – has eaten a lot of mosquitoes over his 56 years and believes this works. But admits the ritual has no basis in fact.
This is probably a sensible admission coming from a forest service research ecologist revered across B.C. as a guru of botany.
The reverence may have something to do with the six best-selling books on Western North American plants MacKinnon has co-authored over the last 21 years.
It may have something to do with his role in B.C. governments' evolving understanding of the ecology of coastal old-growth.
It may have something to do with the part MacKinnon's sense of humour and guitar skills played in keeping B.C.'s forest sector from splintering into hopelessly embittered factions in the early 1990s.
Anybody that commands the respect of eco-warriors, industry and academia can't be all bad, even with self-induced bug breath.
Ken Wu, executive director of the Ancient Forest Alliance, calls MacKinnon the rock star of B.C. botanists and the most knowledgeable person in the province on old-growth forest ecology.
Plants of Coastal British Columbia, MacKinnon's most popular book, is "a bible of botany" on North America's west coast, Wu says. Battered copies hold sway in the book shelves and backpacks of B.C. naturalists and tree huggers, he says.
"In the '80s and '90s and even in some circles today, there was a view that old-growth forests were decadent, disease-ridden ecosystems that had to be replaced by tree plantations," Wu says. "His work has shown that's just wrong."
Vancouver-raised MacKinnon managed to thwart nature and nurture by dodging the glowering destiny of a career in law. His father was a judge, both grandfathers and three uncles were judges, his brother and sister are lawyers.
He even married a lawyer, as if to remind himself in the middle of the night of his professional rebellion. But he stumbled into biology, earning bachelor's and master's degrees in botany from the University of B.C. and becoming an expert on seaweed and mushrooms.
"A master's degree in the ecology of micro-fungus is about as unemployable as a person can get," he says.
Somehow, he managed to get a job with the forests ministry in northern B.C. as he graduated. It was less sombre work than the funeral director job he worked to help put himself through university.
MacKinnon has stayed with the forest service, off and on, for 30 years. Today, he's a research ecologist with the West Coast region.
He could have retired on pension last summer but has no plans to abandon ship.
"I'm just hitting my stride," he says. This claim is plausible. MacKinnon serves as an adjunct professor at SFU, mentoring dozens of master's students in the university's school of resource and environmental management. Every other summer he teaches a six-week field course in Bamfield on rainforest ecology at University of Victoria.
Each summer he does a one-to-two-week stint as a naturalist on the tall ship Maple Leaf, which cruises the coast from Victoria to Alaska.
"It's a high-end operation so I'm fed really well," he offers.
A resident of Metchosin on Vancouver Island, MacKinnon's also a sought-after speaker, adviser and field-trip leader. He's also a star guest at mushroom festivals.
"If I was going to be stuck in a rainstorm on a small island on the north coast for a week, he's the person I'd want to be with," says Ken Lertz-man, a friend of MacKinnon and a professor in SFU's school of resource and environmental management.
BOTANIST ANDY MACKINNON's flair for blending scientific detail with humour has helped his six co-written books collectively sell more than 500,000 copies.
Plants of Coastal British Columbia alone has sold more than 250,000 copies – an astounding number for a book about green shoots in a country where selling 5,000 copies qualifies a book as a bestseller.
But MacKinnon's initial bid to sow his seeds as an author fell on stony soil. His first book on the plants of northern B.C. was rejected by 11 publishers.
"I still have a letter from one of B.C.'s top publishers telling me the idea was stupid," MacKinnon says.
Edmonton-based Lone Pine Publishing loved the book, and agreed to publish it.
But Lone Pine didn't love one of the book's descriptions and insisted it be removed.
MacKinnon had been cheeky enough to include the common name for dwarf scour-
ing rush. The common name is "swimmer's dink."
MacKinnon says it was a deliberately juvenile inclusion. But he says the books' sense of fun – all of them include sasquatch tales – have helped them to become popular.
Lone Pine, which has published all of MacKinnon's books, has implicitly acknowledged its error. Swimmer's dink appears in his latest book, Alpine Plants of British Columbia, Alberta and Northwest North America, published in April.
The plant is so named because "the stems are shrivelled like a brash man's penis in a tarn," the book says.
https://ancientforestalliance.org/wp-content/uploads/2018/08/Andy_MacKinnon.jpg
424
640
fairwindcreative
https://ancientforestalliance.org/wp-content/uploads/2014/10/cropped-AFA-Logo-1000px.png
fairwindcreative
2013-06-04 00:00:00
2018-10-19 16:25:16
The rock star of botanists