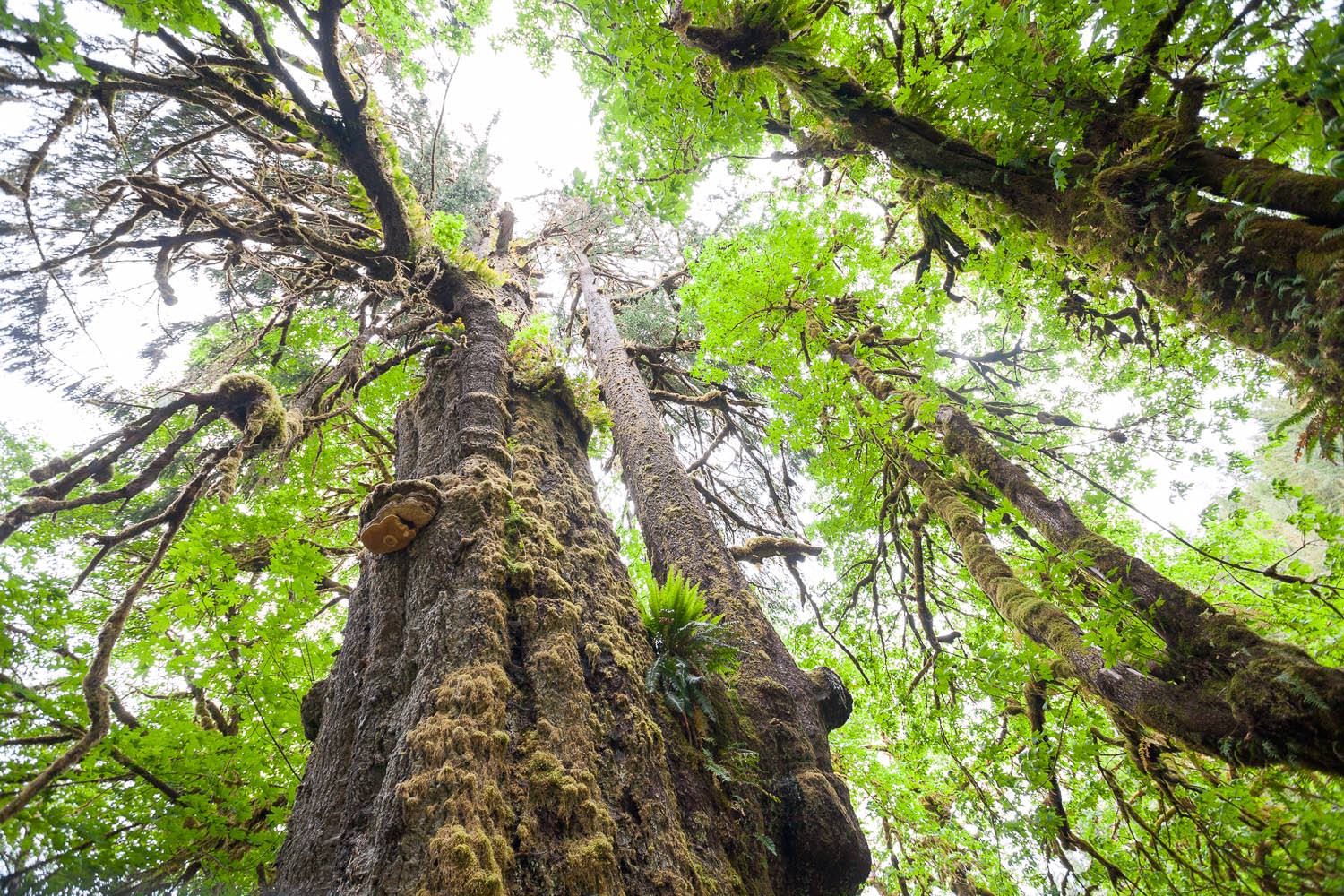 Jul 30
2019
'The start of a broader conservation': 54 big trees are now protected, but old-growth continues to be a major part of logging on the coast
Ha-Shilth-Sa
July 30th, 2019
Some of the largest trees in B.C. have gained protection, thanks to an announcement from the provincial government in mid-July, including at least eight giants in Nuu-chah-nulth territory on Vancouver Island.
On July 17 B.C.'s Ministry of Forests, Lands, Natural Resource Operations and Rural Development listed 54 trees that were previously unprotected will not be preserved from logging. These trees are on Crown land and among the largest in the province, as they are listed in the Big Tree Registry compiled by the University of British Columbia.
Some of these trees are in Nuu-chah-nulth territory on western Vancouver Island, including a Sitka Spruce near Port Renfrew that measures 62.5 metres in height with a diameter of 3.71 metres, another 49-metre Sitka spruce on the south portion of Meares Island and a western red cedar on the north part of Meares measuring 46.9 metres in height and 5.64 metres in diameter. Also listed among those to be protected is the iconic Big Lonely Doug, a 70.2 metre Douglas fir that was left to be the only tree standing in a clearcut near Port Renfrew.
In a measure to prevent similar scenarios in the future, each of the 54 trees will be surrounded by a one-hectare buffer zone that will also be protected, according to the province.
"These trees represent an important part of B.C.'s natural heritage, and British Columbians have said they want them preserved," stated Minister of Forests Doug Donaldson. "What we are announcing today is the start of a broader conservation about the future of old-growth management in this province."
The announcement follows growing concern last year over accelerated old-growth logging in the Nahmint Valley south of Sproat Lake. In May 2018 the Ancient Forest Alliance discovered a Douglas fir measuring over three metres in diameter that was logged in the area, dimensions that would rank the tree among the largest of its species in Canada. Over the last three years BC Timber Sales has auctioned over 300 hectares of old-growth in the Nahmint Valley for harvest, including five timber licences that were sold without the consent of the local Tseshaht First Nation.
In November the Nuu-chah-nulth Tribal Council called on the provincial government "to work with them in slowing down, or even stopping, the rapid disappearance of old-growth forests within Nuu-chah-nulth territories."
"Old growth forests are valuable ecosystems than can never be reproduced," stated NTC Vice-President Andy Callicum in a media release. "The forests play an important role in protecting wildlife throughout the winter, and for providing Nuu-chah-nulth peoples the medicines and roots contained in them."
In Victoria last April the Tla-o-qui-aht First Nation and their supporters celebrated the 35-year anniversary of Meares Island being declared a tribal park. During the event Tla-o-qui-aht carver Joe Martin spoke of the importance of using only what one needs from the forest.
"We're not allowed to just go and take a tree," he said. "There's a protocol with it: you have to go visit that site several times."
"Sit with it for a long time to make sure there's no eagle's nest, wolf dens or bear dens around," added Martin. "Mother nature will provide for our need, but not our greed."
But this might not align with the economic aims of BC Timber Sales, which declares its vision as "to be an effective timber marketer generating wealth through sustainable resource management." BCTS operates in 33 communities across the province and supports over 8,000 jobs through its sales and management of Crown forest land. The logging of old growth continues to be a big part of these operations.
"As with previous years, the amount of harvest being auctioned by BC Timber Sales on the coast this year is approximately 50 per cent old growth and will continue to be for the foreseeable future," stated a BCTS spokesperson in an email to Ha-Shilth-Sa. "This is what the timber supply, economic base and community employment across the coast is based on."
see the original article
https://ancientforestalliance.org/wp-content/uploads/2015/01/canadas-largest-spruce-tree.jpg
1000
1500
fairwindcreative
https://ancientforestalliance.org/wp-content/uploads/2014/10/cropped-AFA-Logo-1000px.png
fairwindcreative
2019-07-30 20:08:20
2019-08-01 20:12:38
'The start of a broader conservation': 54 big trees are now protected, but old-growth continues to be a major part of logging on the coast