Jun 25
2019
ACTION ALERT: Have Your Say on Changes to BC's Forest Practices Legislation
The BC Government is currently seeking public feedback on proposed changes to the Forest and Range Practices Act, the main piece of legislation governing forest practices in BC. The amendments will focus on issues like climate change, biodiversity, government oversight, and public trust in forestry management decisions.
This is a rare and critical opportunity for British Columbians to speak up for science-based protection of BC's endangered old-growth forests!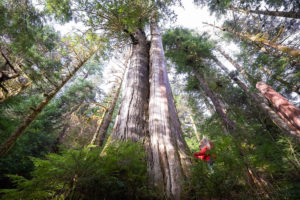 The Forest and Range Practices Act (FRPA) has reduced government accountability and oversight and put the fox (timber industry) in charge of the henhouse (BC's public lands, including rare and endangered old-growth forests). It also prioritizes timber supply over all other forest management objectives and includes loopholes around old-growth protection big enough to drive a logging truck through! The results have been a disaster and BC's ancient forest ecosystems, biodiversity, climate, and communities are paying the price. 
Now is our chance to demand bold and sweeping changes to this outdated law.
Current legislated targets for old-growth protection are set too low and are not based on science, meaning we are losing the species, ecosystem services, tourism and recreation opportunities, and valuable carbon stores that old-growth forests provide. It's high time the NDP government stopped placating the timber industry and started prioritizing the health and resilience of BC's forest ecosystems. And it starts with strengthening the Forest and Range Practices Act.
Amendments to FRPA must:
Mandate the establishment of higher, legally-binding old-growth protection targets, based on the latest science, to sustain the long-term ecological integrity of old-growth forest ecosystems;
Prioritize forest connectivity and climate resilience;
Prioritize the management of biodiversity over timber supply across landscapes; and 
Close the loopholes that allow much of Earth's grandest forests and biggest trees to be logged.
Read the BC government's discussion paper for more information and details on the proposed changes.
Until Monday, July 15th, the BC government is accepting public comments on amendments to FRPA through an online survey. We have provided responses to the survey questions below to make it as easy as possible for you -simply copy, paste, and edit your responses as needed.
SUBMIT YOUR FEEDBACK (suggested survey answers below) Question 1. How should the Province identify opportunities and priorities for adapting forest management to a changing climate, such as mitigating the effects of beetle infestations, drought and fire?
Prioritize forest ecosystem health, connectivity, and resilience over timber supply to ensure forest ecosystems and the species that depend on them can cope with the impacts of climate change. Recent studies show that mature and old-growth and older forests are more resilient and can better protect communities from climate impacts like droughts and flooding better than younger forests.
Strengthen protection of valuable forest carbon sinks (i.e. old-growth forests).
Recognize the BC forest sector's contribution to provincial greenhouse gas emissions and prioritize management approaches that significantly reduce forestry emissions (for example, by ending slash burning).
Question 2. What factors should be considered in the planning of forest operations to reduce the risks of wildfire around your community?
Logging and clearcuts that readily dry out have been shown to make landscapes more prone to fires. Protecting more forests around communities and curtailing forestry around communities will help reduce the frequency of fires.
 Forest operations must aim to minimize activities that exacerbate climate change impacts such as fires, flooding, droughts, and landslides.
Silvicultural practices must be changed to reduce wildfire risks near communities. This can be done, for example, by planting climate appropriate tree species and actively reducing fuel build-up in second-growth forests via thinning and controlled burns.
Question 3. A vital step in landscape-level planning is understanding what is important to the public. Based on what is important to you or your community, what information on the condition of resource values (such as species-at-risk habitat) do you think is necessary to support the planning process?
The current amount, in hectares and percentages, of protected and unprotected old-growth forest that remains in each landscape unit, by ecosystem type and productivity level, compared to their original extent (pre-European colonization).
Maps showing the geographic location of these remaining old-growth forests and their existing land use designations, both legislated (Parks, TFLs, Private, Crown, etc.) and regulatory (OGMAs, WHAs, etc.).
 Information on biodiversity (at all scales), including biodiversity hotspots for species richness, endangered species concentrations, underrepresented plant communities, and rare element occurrences.
Various species at risk habitat, including critical habitat.
Freshwater quality and salmon stock data and trends.
Forest industry and other industry tenures, leases and activities over the landscape.
Question 4. How would you like to be involved in the planning process?
Members of the public should be given meaningful, timely opportunities for public engagement at all levels of forest planning, including online commentary.
Landscape planning must be well-funded and be done quickly.
Landscape planning must also be multi-stakeholder processes (including environmental non-governmental organizations, among others) and co-managed by provincial and Indigenous governments.
Question 5. Resource roads are a valuable asset in the province as they provide access for the forest industry, ranchers, other resource users, and the public for commercial and recreation purposes. Yet, these same road networks are costly to maintain and have potential negative impacts on wildlife, water quality and fish habitat. What values do you believe are important to consider when planning new roads, road use and maintenance, and deactivation in your area?
Minimize on road construction wherever possible. Road densities may be the single largest source of lasting environmental degradation in landscapes.
Maintaining habitat connectivity and supporting species that rely on large tracts of undisturbed forest for survival.
Maintaining sufficient interior forest habitat and reducing the amount forest edge ecosystem.
Maintaining access to areas that provide valuable recreation and tourism opportunities while ensuring habitat connectivity and ecological integrity take priority.
Ensuring minimal impacts to freshwater quality, especially in drinking watersheds and salmon-bearing waterways.
Question 6. How can the Province improve transparency and timelines of information regarding proposed operational and landscape-level objectives, plans and results?
Provide meaningful, timely opportunities for public engagement at all levels of forest planning.
Forest Stewardship Plans must be more detailed on specific cutblock plans and roads, be publicly available online, and require public consultation spanning at least 120 days (twice the current 60-day period) to allow ample time for public comment.
Require licensees and provincial decision-makers to demonstrate how public comment substantially informed proposed plans, operations and approval decisions.
Question 7. What information will help inform your feedback on plans that may impact you, your community or your business (e.g., maps of cutblocks and roads planned in your area, hydrological assessments, wildlife habitat areas or recreation opportunities, etc.)?
Maps of planned cutblocks and roads, forest reserve designations (e.g. OGMAs, WHAs), old-growth forest ecosystems (at the BEC zone and, where possible, site series level) and productivity classes, species-at-risk habitat, recreation opportunities, and information such as surveys, assessments, and studies relied on by licensees to demonstrate consistency with government objectives, approval tests, and statutory requirements should all be made publicly available in order to inform feedback on proposed plans.
Question 8. What additional values should be considered in FRPA that will allow us to manage forest and range practices in a better way?
Science-based old-growth forest retention on a scale sufficient to ensure their long-term ecological integrity must be added as a management objective.
Through FRPA, the BC government must establish an independent science panel to: a) Evaluate the conservation status of all forest ecosystems, b) Establish evidence-based old-growth and other biodiversity targets to be applied through landscape level planning with associated, legally-binding timelines.
These targets must take ecosystem types, forest productivity, and elevation distinctions into account and must not be based on representation alone, but also on landscape ecology and conservation biology principles to ensure long-term ecological integrity.
FRPA amendments must also:
Establish biodiversity as a high management priority in all forest ecosystems through an explicit FRPA objective.
Remove the constraint "without unduly reducing the supply of timber from British Columbia's forests" from all FRPA legal objectives and from the Government Actions Regulation and add the constraint "without unduly reducing the resilience of ecosystems" to timber and other 'use' objectives.
 Include a hierarchy of old-growth forest reserve establishment where old-growth forests take priority over second-growth and high productivity forests take priority over low.
Restrict the movement of Old Growth Management Area boundaries.
Question 9. In what ways should the Province strengthen government oversight and industry accountability regarding forest and range activities to better address the challenges of climate change and the interests of all British Columbians?
Require licensees to provide sufficient information for provincial decision-makers to evaluate operational plans and proposed forest operations for consistency with legal objectives and require government approval of site-level plans.
 Require that decision-makers provide written reasons to the public demonstrating how proposed logging and road-building are consistent with statutory tests, legal objectives, Indigenous rights and public comment.
Require provincial decision-makers to determine whether proposed forest operations are consistent with:  a) maintaining and where necessary restoring healthy, fully functioning forest ecosystems that support ecological, social and cultural resiliency, and  b) the United Nations Declaration on the Rights of Indigenous Peoples.
Remove existing, lengthy bureaucratic steps required to set objectives and give government the authority to set objectives, informed by public input, for a particular area.
Thank you for submitting your feedback! Can you go a step further?
Send an email to Forests Minister Doug Donaldson, Premier John Horgan, and other decision-makers telling them the 2020 Forest and Range Practices Act amendments must include science-based protection of old-growth forests! 
https://ancientforestalliance.org/wp-content/uploads/2019/06/Copy-of-Have-your-say-on-changes-to-the-Forest-and-Range-Practices-Act.png
312
820
fairwindcreative
https://ancientforestalliance.org/wp-content/uploads/2014/10/cropped-AFA-Logo-1000px.png
fairwindcreative
2019-06-25 14:04:03
2023-01-25 10:55:19
ACTION ALERT: Have Your Say on Changes to BC's Forest Practices Legislation