2018 was a momentous and transformative year for the Ancient Forest Alliance. Thanks to the tremendous generosity of our supporters, we have been able to expand our organizational capacity and take significant strides towards some of our long-term campaign goals to protect BC's endangered old-growth forests and ensure a sustainable, value-added, second-growth forest industry.
AFA's Ken Wu visits New Zealand to promote ancient forest protection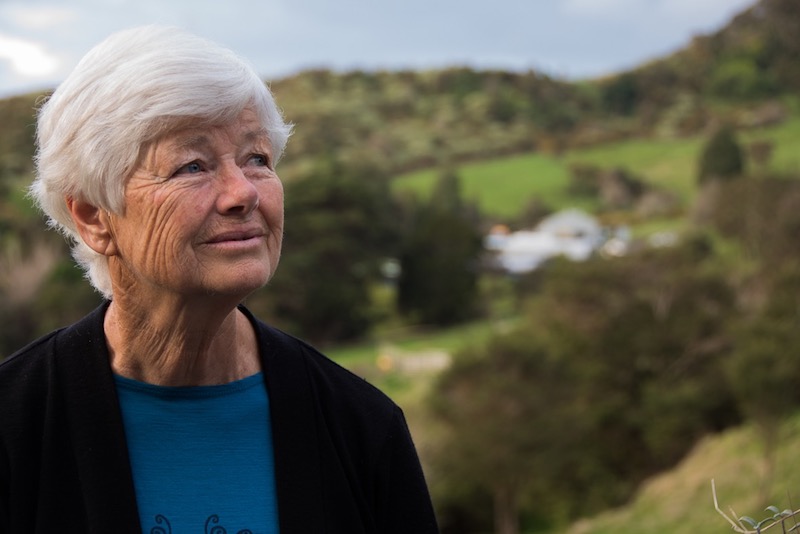 In March, former Executive Director Ken Wu travelled to New Zealand to represent the AFA at a nation-wide series of forestry and green building conferences, giving presentations on the importance of protecting BC's old-growth forests and halting the importation of endangered old-growth redcedar from BC into New Zealand. He also had the pleasure of meeting with co-leader of the Green Party of Aotearoa New Zealand (1995 to 2009), Jeanette Fitzsimons, who successfully campaigned for an old-growth logging ban in the country by 2001. Both of them agreed that if New Zealand can do it, BC can and must do the same.
Highlighting the Beauty and Destruction of BC's Ancient Forests
In May, we exposed the destructive logging of some of Canada's most spectacular ancient forests and near record-sized trees in the Nahmint Valley near Port Alberni on Vancouver Island, including the felling of Canada's ninth widest Douglas-fir, by the BC government's own logging agency, BC Timber Sales (BCTS). The story and accompanying images quickly garnered international attention and sparked outrage among thousands of British Columbians, putting heightened pressure on the BC government to end old-growth logging by BCTS.
What's worse, we suspected the logging violated the province's own land use regulations, so we submitted a natural resource violation complaint to the Ministry of Forests in June. While we're still waiting for the ministry to provide information on the outcome of its investigation in response to the Freedom of Information Request we submitted to the government, the Forest Practices Board is now conducting its own investigation into this very serious allegation.
Other threatened old-growth forests we highlighted this year include Edinburgh Mountain near Port Renfrew, the biggest block of largely intact, unprotected ancient forest south of Barkley Sound; the Caycuse River valley near Nitinat Lake; Hadikin Lake just outside the Walbran watershed; and Mossome Grove near Port Renfrew.
Old-growth Forests in Film and Art
Summer 2018 marked the 25-year anniversary of the Clayoquot Sound mass blockades, where some 12,000 people protested the logging of some of Vancouver Island's finest old-growth forests near Tofino. To honour these historic events, we commissioned a hard-hitting mini documentary series that explores the significance and impacts of the Clayoquot Sound protests, the ecological and economic value of BC's old-growth rainforests, the important role of Indigenous communities in managing ancient forests, and the solutions urgently needed for their long-term protection. The film series, created by Darryl Augustine of Roadside Films, brought together the voices of Clayoquot Sound protest organizers, ancient forest activists, First Nations, business and union representatives, and scientists.
We were also incredibly lucky to collaborate with renowned Canadian photographer Edward Burtynsky and filmmakers Jennifer Baichwal and Nicholas de Pencier on their multidisciplinary undertaking, The Anthropocene Project, which explores the profound impacts humanity has on the planet. AFA's TJ Watt worked with Burtynsky gathering photos and video footage of Avatar Grove and areas impacted by old-growth logging near Port Renfrew to illustrate both the beauty and destruction of coastal BC's ancient rainforests. The footage and images are featured in the documentary film Anthropocene: The Human Epoch and one of Port Renfrew's famous Douglas-fir trees, Big Lonely Doug, was also highlighted in the form of an augmented reality installation which was displayed at the Art Gallery of Ontario and the National Gallery of Canada in Ottawa.
What's more, Mr. Burtynsky contributed a striking photography installation of Avatar Grove to the new Indigo bookstore in downtown Vancouver and generously donated twenty five thousand dollars to the AFA, which Indigo Books and Music graciously matched! Thanks to these exceptional gifts, we now have the financial capacity to commission a report on the economic benefits of standing old-growth forests, an instrumental step in building the movement to protect them. Many thanks to Edward Burtynsky and Indigo Books and Music!
Government Relations and Building a Unified Voice for Old-Growth
Throughout the year, we continued to work closely with our allies at Sierra Club BC, Wilderness Committee, and Canopy to align our strategic goals, share information, and lobby the BC NDP government collectively, as a unified voice for ancient forests. Since presenting our policy recommendations on old-growth forest protection and sustainable, second-growth forestry to the NDP government in 2017, our organizations have held meetings with key decision-makers and will keep working to increase public pressure on the NDP government to hold them to their election promise to "apply an evidence-based scientific approach to land-use planning, using the ecosystem-based management of the Great Bear Rainforest as a model for managing…old-growth forests."
Engaging "Non-Traditional Allies" to Expand the Ancient Forest Movement
2018 was a tremendous year for our campaign to engage non-traditional allies.  We have effectively worked to build a broad-based movement of support for old-growth forest protection beyond the environmental movement by conducting outreach to "non-traditional allies" such as businesses, unions, and tourism, recreation, multicultural, and faith groups. Over 100 resolutions have now been signed in support of greater protection for BC's old-growth forests representing 107 businesses, 3 faith groups, 15 recreation groups, and one tourism association, The Wilderness Tourism Association of BC (with whom we produced a joint press release in December).
A Growing Team
In September, we said goodbye to AFA Co-Founder and Executive Director Ken Wu, who moved on to launch a new national organization, the Endangered Ecosystems Alliance (EEA) which works to protect Canada's at-risk ecosystems. Ken remains as Chair of our board of directors and continues to assist the Ancient Forest Alliance team in an advisory capacity. He will also partner with us through the EEA on campaigns to protect endangered old-growth temperate rainforests. Following Ken's departure, a powerhouse Executive Team comprised of Campaigner, Photographer and AFA Co-Founder TJ Watt; Campaigner Andrea Inness; and Administrative Director Joan Varley has taken on the management of the organization.
We also welcomed some
new additions to the AFA family! Two new Campaigners, Rachel Ablack
(Communications Outreach and Development Coordinator) and Stephanie Korolyk
(Community Engagement Coordinator), have been hired to help expand our capacity
and make even more headway in our various campaigns to protect old-growth
forests and ensure a sustainable, value-added, second-growth forest industry in
BC. Both are extremely passionate about forests and excited to have joined the
AFA team!
Improving Our Online Presence
In late October, we boosted our online presence with the launch of our new website! The site features a much-improved design that highlights our latest news, campaigns, photos, videos, and more. We're grateful for AFA's multi-talented TJ Watt who spent countless hours building the site and updating the content to better reflect our growing organization.
Looking Forward to 2019
2018 was a year of growth and progress and we could not have accomplished everything we did if it wasn't for the encouragement and generosity of amazing supporters like you! In 2019, we will continue to explore and document endangered, unprotected old-growth forests, build a broad and diverse support base of non-traditional allies, and lobby the government to take meaningful and necessary action for the protection of BC's endangered old-growth forests.
We also have some exciting new projects including: pursuing conservation financing solutions for sustainable economic development tied to old-growth protection, for example through tourism and value-added second-growth forestry businesses; commissioning an analysis on the economic value of standing old-growth forests, comparing their value for tourism, carbon offsets, non-timber forest products, fisheries, and real estate to their timber value; and finally, we will work to ramp up our campaign for a BC-wide private land acquisition fund to pressure the government to establish dedicated funding in their 2020 budget to purchase and protect endangered ecosystems on private lands, including old-growth forests.
With eight full-time staff members, a stellar team of energetic and passionate canvassers, dedicated volunteers, and our strong support-base, we are ready to take on 2019 and continue the fight for BC's ancient forests.
Statement of Operations
for the year ending December 31, 2018
Receipts
Donations
550,794
Grants
14,813
Sales
35,182
Total Receipts
600,789
Expenditures
Cost of Goods Sold
19,898
Campaigns
Campaigners
125,401
Research & Campaign Development
30,574
Public Education & Engagement
42,912
Operations
Administration
85,762
Telecommunications
3,937
Public Outreach
165,560
Total Expenditures
474,044
Net Surplus of Receipts over Expenditures
126,746